Lady Yellowjackets punch ticket to state tournament
Friday, March 6, 2015
Bay punched their ticket to the 1A state tournament last Wednesday with a 50-46 win over Calico Rock in the opening round of the 1A Region 2 Regional Tournament in Lynn. The state tournament will be played in Nashville.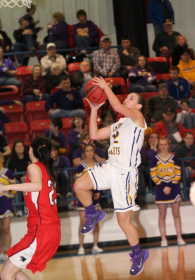 Baylee Bowers scored inside and Katie Ferguson hit two free throws to give Bay a early 4-0 lead. A Calico Rock basket was followed by baskets from Ferguson and Bowers making the score 8-2 Bay. Ferguson answered the next two Calico Rock baskets with a three-pointer after each and then added a third straight three-ball to make ti 17-6 Lady 'Jackets. The Lady Pirates finished the quarter with a three-pointer and a steal and layup to make it 17-11 Bay after one.
Calico Rock cut the lead to 17-13 early in the third before Sydney Higgins canned a three-pointer, Bowers went coast to coast for a layup and Ferguson netted a three-ball to push the Bay lead to 25-13. The Lady Pirates connected on back to back three-pointers to make it 25-19 with just over four minutes left in the quarter. Bowers and Ferguson hit back to back jumpers around a Calico Rock basket to make the score 29-21 Lady Yellowjackets. The Lady Pirates drilled a three-ball only to see Ferguson answer with her fifth three-pointer of the half to make it 32-24 Bay at the break.
The Lady Pirates got an inside basket to make it 32-26 early in the fourth before Sarah Blackman and Ferguson each hit the front end of a one and one free throw to make it 34-26. Calico Rock connected on three of four free throws to make it 34-29 before a Blackman basket made the score 36-29. Ferguson hit a three-pointer between two Calico Rock three-pointers to make it 39-35 after three quarters of play.
Bowers hit a basket inside to start the fourth making it 41-35 Bay. Calico Rock hit one of two free throws followed by Ferguson hitting two of three free throws after being fouled on a three-point attempt to make the score 43-36 Bay. The Lady Pirates got a basket to fall and two free throws to cut the lead to 43-40. Blackman hit two free throws to make it 45-40 Bay before Calico Rock drained a three-ball making it 45-43 Lady 'Jackets. Ferguson hit two free throws to make it 47-43 before the Lady Pirates hit a three-pointer to make it 47-46 with less than a minute left. Ferguson hit three of four free throws to set the final at 50-46 Bay.
Ferguson had a game high 32 points as Bowers chipped in 10 points for the Bay.
Bay lost a heartbreaker in the semi-finals to Norfolk by a score of 42-40. Ferguson and Higgins each had 15 points in the loss. Bay faced off against Viola in the consolation game falling 39-35. Ferguson scored 16 points to lead the Lady 'Jackets.