Perry leads Marked Tree to win in regional consolation game
Friday, March 6, 2015
Lexi Perry pumped in 30 points to power Marked Tree to a 64-51 victory over East Poinsett County in the consolation game of the 2A North Regional Tournament Saturday afternoon at the Mustang Athletic Complex in Monette. The victory gives the Lady Indians a third seed in the 2A State Tournament in Pangburn while the Lady Warriors will enter tournament play as a fourth seed.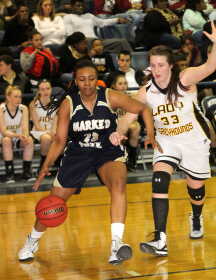 Marked Tree held a 16-7 lead after the opening quarter and took a 30-20 advantage into the dressing room at intermission. The Lady Indians led 45-37 entering the final frame.
Tullia Tull joined Perry in double figures, scoring 17 points. Bree Marshall tallied eight, Diana Harris and Jayla Carter contributed four points each while Dez Reel chipped in one point.
Synteria Ward and Becca Bishop topped the Lady Warriors, scoring 12 points apiece. Bailey Constant tallied nine, Christian Hinson delivered eight, Jaleigha Garrett added six while Markiya Ward netted four.
Marked Tree opened tournament play with a 42-38 win over Sloan-Hendrix. Perry scored 22 points to lead the Lady Indians. The Lady Indians fell 83-25 to Marmaduke in the semi-final round. Perry led Marked Tree in scoring with seven points.