Marked Tree falls in regional semi-finals
Friday, March 6, 2015
Gerry Bohanon and Marcus Brown combined for 42 points to lead Earle to a convincing 78-50 thrashing of Marked Tree Friday night in the semifinals of the 2A North Regional Tournament at the Mustang Athletic Complex in Monette.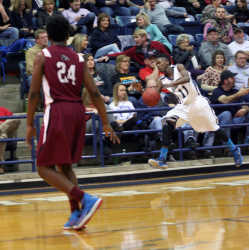 The Bulldogs held a 19-13 lead after the opening quarter and stretched their advantage to 39-24 at the half. Earle continued to build on its lead in the third period and headed into the fourth quarter up 61-42.
Earle led by as many as 30 points in the fourth period, invoking the mercy rule, and coasted into the regional final against East Poinsett County.
Bohanon finished the night with 23 points while Brown added 19 more to lead the Bulldogs while B. J. Murray added 14. Earle was 9-14 from the line and drilled five three pointers.
D'Angelo Griffin topped the Indians with 23 points while Terry Carter also hit double digits scoring 11. LaQuinton Miles, Nick Andrews, Tirek Young and Cameron Mitchell all added four points apiece. Marked Tree connected on 7-14 foul shots and made two treys.
The Indians punched their ticket to the 2A State Tournament in Pangburn, knocking off the number one seed from the 2A-2, White County, 62-46 on Wednesday afternoon.
White County held a 14-12 edge after the first period before the Indians rallied in the second stanza behind Terry Carter and LaQuinton Miles to take a 25-22 lead at intermission.
Marked Tree built its advantage to eight points, 33-25, late in the third period, before the Bears scored the last four points of the quarter to close to within 33-29 entering the final frame.
The Indians began the fourth period with a 13-2 run to grab a 46-31 lead at the 3:17 mark. The Bears could never get the deficit under double digits the rest of the way as Marked Tree claimed a spot in the state tourney.
Miles scored a game high 23 points to lead three Indians in double figures. Carter netted 18 while Griffin chipped in 10. Young tallied four while Andrews, Mitchell and Edward Brown chipped in two points apiece. Jaylon Gunn added one. Marked Tree made 26-36 free throws and hit one three pointer.
Garrett Horton topped the Bears with 16 points while Griffin Dunn added 10.