Bay captures 1A Region 2 title
Friday, March 6, 2015
Bay faced a second straight team that wanted to play the stall game against them. The result was the same Bay trailed 3-2 after one and invoked the mercy rule with just over two and a half minutes left in the game on their way to a 45-14 win over Izard County Consolidated (ICC) and a number one seed in the 1A state tournament being held in Nashville.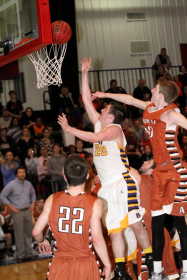 "I decided to let the team just sit back tonight instead of chasing the ball. It saved us from getting in early foul trouble and freed up (Colton) Watson and (Tyler) Pritchett to play a little more aggressive," Bay head coach said of the stall game.
Jonathan Crain gave Bay the early 2-0 lead with a basket down low. ICC came across mid-court and proceeded to hold the ball for the next seven minutes and twenty-five seconds before hitting a three-pointer at the buzzer to make it 3-2 ICC after one.
The Cougars stretched their lead to 5-2 with a bucket to start the second quarter before Bay got a basket from Crain off an offensive rebound, Watson had a steal and layup and Dustin Utley hit one of two free throws giving the Yellowjackets a 7-5 lead at the half.
Bay continued the run at the end of the second quarter by scoring 16 straight points in the third quarter taking a 23-5 lead. Watson and Crain hit back to back shots followed by a three-pointer from Taylor Layne. Pritchett hit three of four free throws, Crain scored inside and Watson hit back to back baskets before ICC got back to back baskets to make it 23-9 'Jackets at the end of three.
Bay stretched the lead to 30-10 with a 7-1 run to start the fourth quarter. Watson scored on layup before Pritchett hit two free throws and Watson added two free throws. The Cougars hit one of two free throws before Pritchett scored inside and followed with a three-ball and a basket from Crain to make it 37-11 Bay. Two ICC free throws were followed by a basket from Watson and back to back three-pointers from Pritchett to make the score 45-13 'Jackets. The Cougars added a free throw to set the final score.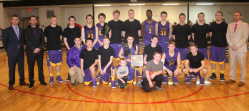 Pritchett had a game high 17 points for Bay followed by Watson and Crain with 14 and 10 points respectively.
"We took the best shots from all three teams this week," Brannen said. "My kids fought hard and did a good job of taking advice and making changes during the games," Brannen added.
Bay opened the tournament with a 60-31 win over Calico Rock as Watson led four players in double digits with 19 points. Pritchett finished with 12 points, Crain netted 11 points and Utley chipped in 10 points for the 'Jacekts. Bay downed Armorel 42-24 in the semi-finals with Watson scoring 14 points and Crain adding 11 points for the 'Jackets.