Charles Nix remembered by community
Friday, March 13, 2015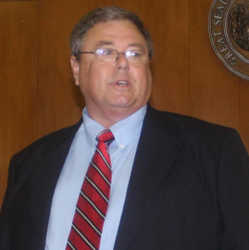 Charles Nix will be remembered as someone who cared. Nix, who passed away on Saturday, March 7, at the age of 68, cared about his county, his community, his schools, the people he worked with, and his family. During his life Nix was publisher of The Modern News, the oldest weekly newspaper in the country still operating under the founder's name and continuously owned by a member of the family. He served on the Harrisburg City Council, served six years as mayor of Harrisburg, served on the Harrisburg School Board for ten years--seven of those as president--served as county judge for six years, and was involved in numerous organizations, boards, and committees.
"Charles genuinely cared," said Curtis Sanders, editor of The Modern News. Like a lot of people in Harrisburg, Sanders has known Nix his whole life and their families have been friends for as long as he can remember. Nix was his youth counselor at church and later his boss when Sanders started work at The Modern News ten years ago. "He was not just doing this to make a name for himself. He cared about the people who worked for him. Working for him was not like working for someone else. It was like working for friends."
Sanders said Nix spoke to him when deciding to run for county judge, knowing he would have to step away from the newspaper and rely on Sanders more to make sure it ran smoothly. "He was county judge through some big times with the ice storm in 2009 and flood [in 2011]," Sanders said. "He had a major undertaking with the closing of the landfill, which he took on himself. A lot of people don't realize what a big deal that was."
"The biggest thing about Charles was you just didn't find good people like him anymore. He cared about his schools, his community, his church, and his county. He didn't just become mayor for a paycheck. He wanted to make a difference," Sanders said.
Sheriff Larry Mills said his relationship with Nix also went way back. When Mills first got involved in law enforcement in the early 1980s, he remembered many occasions when Nix would show up on a crime scene with pen and notepad in hand to get a story for the paper. "He and I always had a really, really good working relationship," Mills said. "His wife was my music teacher in high school, and she's a sweetie too."
When Nix began thinking of running for county judge, Sheriff Mills was one of the people he talked to about it. "I told him it was a good idea he wanted to serve the county but told him I wasn't sure he really wanted the job," Mills said. But Mills said Nix pursued the job and turned out to be a great county judge. "He was always concerned with the community and remained active in it. One of his main priorities as judge, and one he was really proud of, was that all the elected officials had a good working relationship."
"When you have somebody truly special, it seems like the mold's broken when they're gone. That's the way I feel about Charles," Mills said.
Harrisburg School District Superintendent Danny Sample has known Nix since he moved to Harrisburg 22 years ago. Sample worked with him when Nix was on the school board from 1997-2007. "His leadership traits on the school board were second to none," Sample said. "He always had the students' needs at heart, and his decisions were strictly student-based."
One thing about Nix that impressed Sample was how incredibly analytical he was. Nix always wanted data and research to back up Sample's recommendations to the board and never took any decision lightly. Nix served on the board during some major projects at the school including the building of the Fine Arts Center and the JROTC building, and Sample said Nix was instrumental in bringing the JROTC program to the district.
"He was great for the school district as well as for the community. I am proud to say I called him friend. He was there for anything I needed professionally or personally. He was a true gentleman and a true friend," Sample said.
Harrisburg Mayor Randy Mills grew up a mile and half away from Nix and said they were both in the National Guard at the same time in the 1970s. "He didn't make snap decisions," Mills said. "Charles would think things through to see all the sides of each issue. He answered to a lot of people, so he had to be thoughtful, but Charles was good at that."
Mills said one of the big things Nix did as county judge was set up a building reserve fund, which hadn't been done before. Nix worked closely with other county and city officials while he was county judge. He put together quarterly intergovernmental meetings to foster cooperation between officials in all the cities in the county and was an important part of the steering committee for reNEW East Arkansas, which put together a plan for economic development.
"He's going to be missed," Sanders said. "He's been a big part of my life for a long time. I'll recognize his absence."