New parks and recreation director hired for Trumann
Saturday, March 14, 2015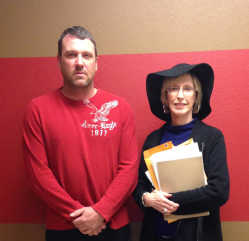 With the previous Parks and Recreation Director finding a job closer to his hometown, the City of Trumann has hired a new director, Scott Shankle. Shankle conducted his first Parks and Recreation Committee meeting on Sunday, Mar. 1.
"We are excited to have Scott with us," Trumann Mayor Barbara Lewallen said. "He has experience, and we think he is going to do a great job for the city."
Shankle was the Parks and Recreation Director for Lepanto for two years. He also has experience as the Fastpitch America Softball Association Regional Director, experience working with the United States Fastpitch Association, and 16 years of experience coaching and organizing tournaments for baseball and softball. For Trumann, he already has 8 tournaments for spring sports scheduled over the next couple of months
"Tournaments are important, not only for the parks and rec, but the city as a whole. It helps increase revenue when people come and spend the weekend here for a tournament," Shankle said. "We have a really nice complex in Trumann, and we want people to see that."
For spring sports, over 200 children were signed up to play for the city. Shankle said he hopes to see growth in those numbers in the future as the program continues to improve.
"My primary goal with this job is to get more youth involved and active," Shankle said. "I'm thankful the mayor and the city council accepted me and entrusted me with this responsibility. I'm going to do my best to promote the city of Trumann and its youth."
Along with managing and expanding the existing activities, Shankle plans to start new programs like a 3-D Bow Shoot Tournament during the Wild Duck Festival.