Marked Tree student chosen for congress of leaders
Monday, March 16, 2015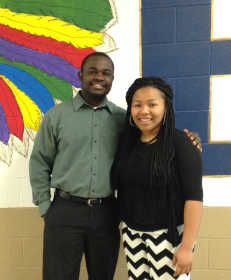 Ranique Daniel, a sophomore at Marked Tree High School, has been chosen to be a member of the Congress of Future Science and Technology Leaders, a nationwide academic honors program. Through the program, she will spend three days learning, networking, and gaining experiences in Boston, Mass.
The National Academy of Future Scientists and Technologists sponsors the program. All attendees are selected by their teachers or the academy based on academic excellence. Daniel will be attending on a scholarship offered to her by the academy.
"Marked Tree is filled with great students, but Ranique stands out because of her hard work and dedication to academics," said Jethro Antoine, the biology teacher who nominated Daniel.
Through the program, she will meet winners of the Nobel Prize, award winning young inventors and scientists, Ivy League academic leaders, leaders of science and tech, and others during the summer event. Antoine said he believes Daniel will be able to come back from her experience and share the knowledge and inspiration she gains with other students at Marked Tree.
"I think this is a tribute to her work ethic, as well as her academic capability," said Matt Wright, MT High School principal. "She has been a model student at our district for years. We are extremely proud of her."
While Wright and Antoine are proud of Daniel, she attributes her success to her teachers at Marked Tree School District like Mr. Antoine and Mrs. McDuffie, her geometry teacher.
"Our teachers know what we can do, and they push us beyond that point," Daniel said. "They encourage us to think outside of the box and open our minds up to different places and opportunities. They teach us that anything is possible."
She added that her mother is also a motivating factor in working hard.
As only a sophomore in high school, Daniel said she has been preparing for her future for a long time. She plans to go to the University of Arkansas to earn a degree in the medical field.
"There's no time to waste. It's never too early to start preparing for college and a career," Daniel said.