ASUN-Marked Tree's newest program training students in surgical technology
Wednesday, March 18, 2015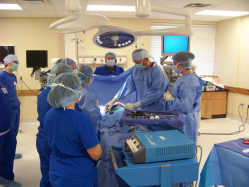 This school year, ASU-Newport's Marked Tree campus began offering a 12 month program in Surgical Technology. The program began in August with nine students, and the program's instructor, Jeremy Wortham said they expect that number to grow.
Surgical Technologists work as part of teams delivering surgical care in a variety of settings, mostly in operating rooms. The Surgical Technology Program runs from August to July with students learning a variety of operating room techniques both for general cases and specialty cases of their choosing ranging from plastic surgery, neurology, OB-GYN, and other specialties. At the end of the program, students are awarded a technical certificate in surgical technology. Wortham said they are seeking accreditation this year, and once the program is accredited students will be eligible for the board exam to become certified surgical technologists. Surgical Tech programs become eligible for accreditation after their first year of operation.
"At the end of the program, students are trained to start as beginning surgical technologists in about any field," Wortham said. "Much has to be taught in the field, but we try to give them a good foundation in terms of the latest technology."
The Surgical Tech classroom at ASUN Marked Tree is attached to a mock holding area and a mock operating room set up with almost all the equipment a real operating room has. Students split their time between the classroom and lab work assisting on mock procedures and learning both traditional and newer techniques.
Part of the key to smoothly running operating rooms are surgical techs who are familiar enough with procedures to know what the surgeon will need next. "I teach them to anticipate what instruments are needed during surgery as well as how and when to pass the instruments to the surgeon," Wortham said. "As a surgical tech, you have to anticipate everything the surgeon needs. If you can anticipate those needs, then the surgeon never has to ask for anything."
"I feel like we offer a great value when you compare tuition, especially compared with Memphis. This is a program a student can come into with little more than a high school diploma. We think we offer a lot to a wide variety of students from different backgrounds," Wortham said. As an example of the diversity of his class, Wortham said he had one student who was in a high school classroom at this time last year and also has students with degrees in other fields who are coming to the program for a second career.
Currently, Wortham said students are doing clinical rotations three days a week and will have clinic four days a week during the summer. The program has students doing clinics in Arkansas Methodist Medical Center in Paragould, Delta Medical Center in Memphis, and Baptist Memorial Hospital in Memphis. The director for ASUN's Surgical Technology Program is Christopher Madden, who serves as instructor on the Newport campus.