Lady Warriors fall short in state tournament opener
Friday, March 13, 2015
The EPC Lady Warriors (15-15) stayed close for the first half trailing by two after one and four at halftime. Westside - Johnson County (WJC) took control of the boards as they built a nine point lead after three before withstanding a late EPC rally to win 63-58 in their opening round game of the 2A State Basketball Tournament being held at Tiger Arena in Pangburn.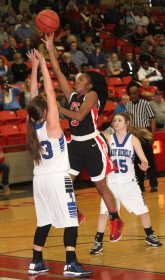 WJC opened the game with back to back scores to go up 4-0 early in the quarter. Synteria Ward hit two free throws to get EPC on the board making it 4-2. The Lady Rebels scored the next points to go up 11-2 with 4:20 left. Synteria Ward hit back to back jumpers and Alyson Phillips canned a three-pointer to cut the lead to 11-9. WJC scored inside before Christian Hinson answerd with an inside bucket to make ti 13-11 Lady Rebels after one.
EPC opened the second quarter with a 6-2 run to take a 17-15 lead. Phillips scored off an offensive rebound, Bailey Constant canned a three-pointer Jaleigha Garrett hit one of two free throws for the Lady Warriors. A 9-0 run by the Lady Rebels gave them a 24-17 lead before Becca Bishop netted a three-ball and Synteria Ward hit one of two free throws to make it 25-21 WJC at the half.
Hinson scored early in the third quarter to make it 25-23 Lady Rebels before WJC responded with nine straight points to go up 34-23. Markiya Ward scored off an offensive rebound for EPC only to see the Lady Rebels score the next six points to go up 40-25. Garrett converted an old-school three point play and Hinson was good on two free throws to make the socre 40-30 with 2:36 left in the third quarter. Synteria Ward hit a jumper in the lane and Markiya Ward hit one of two free throws to make the score 44-33. Garrett's jumper followed a Lady Rebel score to make it 46-35 at the end of three.
Synteria Ward hit a jumper to make it 47-37 before WJC hit back to back baskets to make it 51-37 Lady Rebels. Bishop scored inside before the Lady Rebels answered with an inside basket before Synteria Ward reeled off nine striaght points to make it 53-48 WJC. Wards scored inside, went coast to coast for a layup and added the free throw after being fouled, hit a jumper and then connected on two free throws. Markiya Ward hit a trey and Garrett hit a free throw after a Lady Rebel score to make it 58-52. Phillips hit three of free throw attemps on sucessive trips to make it 61-55 with 1:07 left. Synteria's Ward three-ball made it 62-58 as JWC added a free throw to set the final score.
Synteria Ward scored 20 points to lead the Lady Warriors in scoring. Hinson finished with nine points and Phillips added eight points. Garrett chipped in seven points, Markiya Ward scored six points, Bishop tallied five points and Constant netted three points.
"I'm proud of our effort, I thought we came out and played extremely hard," EPC head coach Bobby Lewallen said after the game. "They (WJC) are one of the better teams in state and we hung in there with them. If they beat us and we played well and we played hard, we wish them luck in the second round," Lewallen said.