Perry's great game carries Lady Indians to win
Friday, March 13, 2015
Lexi Perry was almost unstoppable inside as she scored 27 points to help Marked Tree (15-11) down Quitman 40-32 in opening round play of the 2A state basketball tournament this past Monday in Pangburn.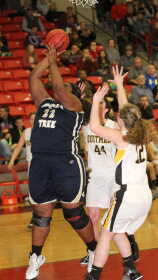 Quitman jumped out to an early 3-0 before Perry scored inside to make it 3-2. Perry hit one of two free throws a little later to make it 4-3 Quitman. Diana Harris gave Marked Tree a 6-4 lead with a three-pointer and Kambria Marshall made it 8-4 with a basket inside for the Lady Indians. A Lady Bulldog three-pointer made it 8-7 before Perry scored back to back buckets to make the score 12-7 after one.
Neither team mustered much offense in the second quarter with Quitman scoring early to make it 12-9 Marked Tree. The Lady Indians got an inside basket from Tullia Tull and Perry again made back to back baskets to increase the lead to 18-9. The Lady Bulldogs added two scores before the quarter ended to send the teams to half with Marked Tree leading 18-13.
Perry's two free throws followed by a basket inside pushed the Marked Tree lead to 22-13. Quitman responded with a 13-2 run to take a 26-24 lead. CJ Barnes scored on a layup during the run. Perry added a free throw late as the Lady Bulldogs got an easy basket off a steal to make it 28-25 after three quarters of play.
The teams traded points with Perry scoring inside to make it 30-27 before the Lady Indians reeled off 13 straight points to go up 40-30 with 40 seconds left. Perry hit one of two free throws to start the run followed by an inside basket from Tull. Perry scored the next eight with three baskets and two free throws. Dez Reel hit two free throws to end the run. Quitman added one more basket setting the final score.
Tull finished with four points for Marked Tree as Harris chipped in three with Barnes, Marshall and Reel each adding two each.
"Everyone in the country knows if you press us we tend to cough it up and we did that early," Marked Tree head coach Derik Drewett said of his team. "Just luckily late we handled the press and got the ball inside where we wanted it. When we get it inside to Lexi, we feel we are almost guaranteed a basket," Drewett added.
The Lady Indians fell to England 64-31 this past Tuesday in the quarter-finals of the tournament. The Lady Indians finished their season with a 15-12 record.