Marked Tree falls on late score in state quarter-finals
Friday, March 13, 2015
It was a tale of two halves this past Monday when Marked Tree (20-11) and England met in a quarter-final match-up in the 2A state basketball tournament in Pangburn. The Indians led after each of the first two quarters before England came back to lead after the third. Marked Tree fought back from a 13 point deficit at the start of the fourth to tie the game with 26 seconds left only to see England score with two seconds left to pull out the victory.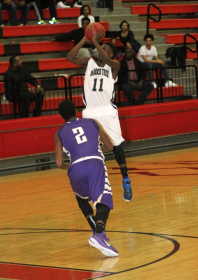 England jumped out to a 5-2 lead with D'Angelo Griffin Daniel scoring on a jumper in the lane for Marked Tree. Laquentin Miles came off the bench with just over three minutes left in the opening quarter and hit a three-pointer and followed that with a steal and layup to give Marked Tree a 7-5 lead after one.
The Indians opened the second quarter with a 6-0 run to extend their lead to 13-5. Miles scored back to back buckets and Tirek Young got inside for a score. England answered back scoring the last six points of the quarter to make it 13-11 Indians at the half.
Young hit a three-ball between an England basket and free throw to make the score 16-14. The Lions reeled off the next 14 points to take a 28-16 lead with 1:56 left in the quarter. Daniel made one of two free throws to stop the run and added a jumper in the lane just over a minute later to make it 30-19. England added a score right before the buzzer to make it 32-19 headed to the fourth quarter.
The Lions stretched their lead to 34-19 with a basket early in the final quarter before Daniel hit two free throws and got a steal and layup while being fouled. Daniel made the free throw followed by a Miles layup to cut the lead to 34-26. England pushed the lead back to 10 before Miles got an easy bucket off a Daniel's steal and Young netted two free throws to make it 36-30 Lions. Miles hit one of two free throws and followed with an old-school three-point play to make the score 39-34 England. Miles got an easy layup basket and then connected four straight free throws to make it 42-40 Lions. Daniel hit a free throw before Miles hit six straight free throws to cut the lead to 48-47. Miles was fouled and missed the first shot before hitting the second to tie the game at 48 with 26 seconds left. England scored off an offensive rebound with two seconds left to take a 50-48 win.
Miles scored 30 points to lead Marked Tree as Daniel added 11 points and Young finished with 7 points.
"We missed some crucial box outs and our free throws hurt us tonight," Marked Tree head coach Barbara Wilburn said after the game. "England has a good team. We got complacent for a stretch in the second half, got away from what we normally do. The guys played hard tonight," Wilburn added.