Bay advances to 1A state title game
Friday, March 13, 2015
Bay (38-5) used a big fourth quarter to blow open a close game against Kirby to earn a spot in the 1A state finals set for Thursday night at 7 pm at the Summit Arena in Hot Springs.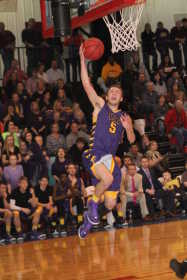 The Yellowjackets used a 23-10 fourth quarter on their way to a 64-50 win. Colton Watson scored 27 points to lead Bay as Tyler Pritchett added 19 points for the 'Jackets.
Bay opened the state tournament with a 78-32 win over Alpena. Leading scorers for Bay were Layne (24), Watson (22) and Jonathan Crain (12).
The 'Jackets met Nevada in the second round and posted an 81-53 win. Watson (33), Pritchett (20) and Taylor Layne (14) were the leading scorers for Bay.
"We've played really well, the biggest thing is we've kept our composure," Bay head coach Brad Brannen said of his team's play thus far in the state tournament. "Everybody is coming out and jumping on us early and we finally came out strong in our game with Kirby. We battled foul trouble all night against Kirby, but I'm proud of how reselient the team is," Brannen added.
Brannen said the state final will be a good game. "They have a real good kid and we'll try to stop him and they (Emerson) will try to stop the things we do. It's going to be a battle."