Vivian Hinds Presley
Tuesday, March 17, 2015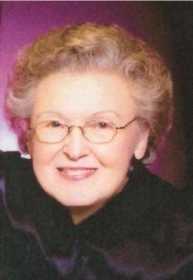 TRUMANN - Mrs. Vivian Hinds Presley, 90, of Trumann died Tuesday, March 10, 2015 at St. Elizabeth Place in Jonesboro. Mrs. Presley was born in Hergett, Ark. and lived most of her life in Trumann. She spent the last seven years as a resident of St. Elizabeth Place in Jonesboro. She was a housewife and co-owner of Presley Farms and Susan Shop of Trumann in her earlier years. She was a founding member of the Melton Avenue Church of Christ and was faithful follower of Christ. She was a wonderful mother, and nanny to her children and grandchildren. She was a pillar of strength and inspiration to both the Hinds and Presley families. She loved music and singing and passed this down to her children and grandchildren. Mrs. Presley was preceded in death her husband, J.C. Presley Jr.; two sisters, Helen Hinds, and Lorene Gardner; five brothers, George, John, Ira, Raymond and Wayne Hinds; and her parents, George Joseph Wesley and Eula Marie Knight Hinds..
She is survived by one daughter, Susan Abernethy and husband Carroll of Maiden, N.C.; three sons, Arthur Presley and wife Sandy of Lindale, Tex., Buford Presley and wife Becky of Decatur, Ala., and Donald Presley and wife Beth of Little Rock; one sister, Maxine Haun of Jonesboro; three brothers, Terrell Hinds of Memphis, Ferrell of Memphis and Oliver Hinds of Trumann; eight grandchildren, Van Presley and wife Dinelle of Loveland, Colo., Glenn Presley of Jacksonville, Tex., Sara Kennedy and husband Shane of Whitehouse, Tex., Mark Presley of Birmingham, Ala., Lisa Damastus and husband Jim of Hartselle, Ala., Patrick Presley and wife Lela of Little Rock, Ryan Presley and wife Jennifer of Wynne, Jason Vinson and wife Susan of North Richland Hills, Tex., Jordan Vinson and wife Mary of Claremont, N.C., and Rebecca Shane Leopard and husband Larry of Athens, Ala.; 11 great-grandchildren; and four great-great-grandchildren.
Funeral services were March 13 in the chapel of Thompson Funeral Home in Trumann with Ronnie Benson officiating. Private graveside services were March 14 at Jonesboro Memorial Park Cemetery in Jonesboro.
Pallbearers were her grandsons.
In lieu of flowers, donations to ALZ or the charity of your choice.
An online register book can be signed at www.thompsonfunealhome.net.