Maggie Callison
Tuesday, March 17, 2015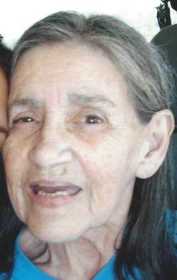 TRUMANN - Mrs. Maggie Marquerite Tatum Callison, 85, of Trumann died Wednesday, March 11, 2015 at the Three Rivers Nursing Center in Marked Tree. Mrs. Callison was born June 9, 1929 in Desha and had live most of her lifetime in Trumann. She was a retired employee of the Singer Company in Trumann and of the Christian faith. Mrs. Callison was preceded in death by one brother, John Marvin Martin. She was the daughter of the late Lee Roy and Linda Jones Martin.
She is survived by one daughter, Ann Adams of Columbia Tenn., and one son Ricky Tatum of Heber Springs, Ark.; two grandchildren, Bryan Roberts and Hope Clover; and three great-grandchildren.
All services were private under the direction of Thompson Funeral Home in Trumann.
An online guest book can be signed at www.thompsonfuneralhome.net.