Yellowjackets beat Emerson to claim state basketball title
Thursday, March 19, 2015
Dynasty?
That word was muttered a few times after Bay (39-5) defeated Emerson 83-56 last Thursday to win the Class 1A boys' state basketball championship played at the Bank of the Ozarks Arena in Hot Springs. The title was Bay's third in the last five years. Bay head coach Brad Brannen had this to say, "It has a lot to do with the school and that man standing in the back of the room. Superintendent Chip Layne does a great job and he allows me to do what I think is right and he backs me 100%. It starts with him and trickles down to our kids at each level."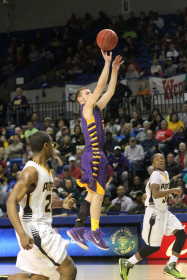 Emerson jumped out to a 4-0 lead prompting Brannen to call time out. Asked what was said during the timeout, Brannen and guys on the platform all chuckled. "At practice today I told the guys I have some nervous juice and they all laughed, it was just a gut reaction saying. I told the guys I was going to bottle it up and give it to them during the first break. When they came over I grabbed a bottle of water and told them to take some nervous juice and things will be okay." The time out worked as Bay scored the next 11 points to go up 11-4. Tyler Pritchett started it off with a three-pointer and was followed by an inside basket from Jonathan Crain. Colton Watson, who was named tournament MVP, and Taylor Layne canned back to back three-pointers before Emerson got a basket to make it 11-6. The Pirates cut it to 11-9 only to see Watson hit three free throws after being fouled on a three point attempt, drill his second three-ball of the quarter and hit one of two free throws to make it 18-9 Bay. Emerson was good on a jumper to make it 18-11 before Bay got a jumper in the lane from Pritchett, Layne scored an easy bucket off a Watson steal and Watson hit his third three-pointer to make it 25-11 'Jackets after one.
Crain stretched Bay's lead to 27-11 with a jumper in the lane just over a minute into the second quarter. The Pirates scored the next four points to make the score 27-15 before Pritchett canned a three-pointer to make it 30-15 Bay. Watson hit two free throws between two Emerson scores making the score 32-19. Watson and Layne each hit two free throws to push the Bay lead to 36-19 only to see the Pirates covert a four-point play and get a jumper to fall to make it 36-25. Watson answered with a three-pointer, Emerson got a jumper to fall, Watson got a steal and easy basket and then added two free throws after being fouled after another steal to make the score 43-27 Bay. The Pirates hit a three-pointer right before the buzzer to make it 43-30 'Jackets at the half.
Watson scored 24 points in the first half and was asked if he was thinking of how many points he might score. "I was just trying to help the team win. If I had open shots, I took them," Watson said.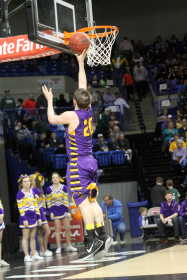 Pritchett opened the third quarter with a three-pointer and Layne followed a basket inside to make it 48-30 Bay. Watson hit a running jumper after an Emerson basket and Crain was good on one of two free throws after the Pirates converted a three-point play to make it 51-35 'Jackets. Crain scored inside after an Emerson scored and Nolan Smith followed with a three-ball from the left corner to make the score 56-37 Bay. The Pirates scored on a layup before Watson hit a jumper and followed with a three-pointer before Cade Prince hit one of two free throws and Watson's jumper in the lane gave Bay a 64-39 lead headed to the final quarter.
Emerson opened the final quarter with a three-pointer before Bay got a basket inside and three-pointer from Watson and a fast break layup from Layne to stretch their lead to 71-42. Emerson scored the next three points before Watson tipped in an offensive rebound to make the score 73-45 Bay. Layne and Pritchett each scored a basket after Emerson scores making it 77-49 'Jackets. Layne and Matthew Willard each hit two free throws following an Emerson three-pointer to make ti 81-52 Bay as the anticipation started building with the Bay players and fans. Matthew Barnett's layup between two Emerson scores set the final score at 83-56 as the buzzer sounded and the Bay players celebrated winning the state title.
Brannen was all smiles as he talked about his team after the game. "They are a great group of kids. They've done everything we wanted and we've grown up throughout the year. We've had ups and downs, and I thought really over the past three weeks we played our best basketball, which is what we've been striving for all year long. Offensively, we were a very talented group all year, and defense is where it was at. Today we executed our defensive game plan very well and it all has to do with these kids and the other kids in the locker room. It's a great group of kids and when you have a great group of kids like this you can win, and you've got to have the players to be able to do it, so it's all about them."
Watson led all scorers on the night with 40 points, including six baskets from beyond the three-point arc, while adding seven rebounds, six steals and four assists. Watson became only the fourth player ever to score 40 or more points in the title game. Layne added 15 points on the night while grabbing seven rebounds as Pritchett chipped in 13 points and had seven rebounds. Crain finished with seven points, 13 rebounds and five blocks, Smith had three points, Barnett and Willard scored two points each and Prince had one point.
As impressive as the stat book looked for Watson, that wasn't important to him. "It doesn't mean anything to me, the only thing that matters is that championship title," Watson said.
Bay dominated the score book in all areas. The Yellowjackets shot 50% (27-54) from the field holding Emerson to 30% (27-73) shooting. Bay hit 11 of 26 (42%) of their three-point shots as Emerson finished 5 of 23 (21%) for the night. The 'Jackets made 18 of 22 (81%) free throws as the Pirates finished 7 of 15 (46%) on free throws. Bay won the rebound battle 45-42 with nine offensive and 36 defensive rebounds.