Wayne Hinds' legacy remembered
Friday, March 20, 2015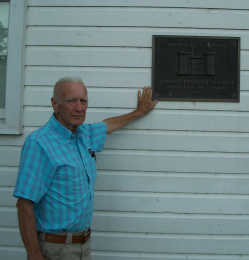 Wayne Hinds, who passed away at the age of 77 on Saturday, March 7, will be fondly remembered by those who knew him well. A lifelong Trumann resident, Hinds was general manager for Drainage District 7 for 47 years and was responsible for 310 miles of drainage ditches, the maintenance of the St. Francis River and floodway levees throughout the county, and the operation of the Marked Tree Siphons.
Hinds was a beloved member of the Trumann Lions Club, and a Trumann High School graduate who set a record for scoring six touchdowns while amassing 317 yards rushing against Marked Tree in a single game in 1955, a record which stood for 56 years and earned him the nickname "Wing-footed Hinds" in the paper back then.
No one knew the drainage system in Poinsett County better than Hinds. He was always eager to take this reporter on rides throughout the county to point out work being done on the ditches and was happy to tour the siphons and tell all he knew about their operation.
Donna Coggin, who worked with Hinds at the Drainage District for the last ten years, was amazed at how much was stored in Hinds head. "We have records here all the way from 1917," Coggin said. "Sometimes he could ask for something dating back to 1940, and he could put his hand on it. I've learned a lot in the ten years I've been here, but he knew every record in this office like he knew every ditch and levee in this district."
Coggin remembered Hinds as the best boss she ever had, calm, real, and fair. He was the type of person who came to work no matter what, even while his health was failing and he had to have his daughter help him up the steps. "He was a very considerate person. He knew his job, and he cared about this place," Coggin said. She also spoke about his patience, how if someone called for something the Drainage District did not handle, Hinds would make sure he got them to the person who could help them.
Coggin said Hinds was always understanding if she needed off work and talked of one memory that came to mind that showed his sense of humor. Coggin said mice had moved into the Drainage District office one year, and Hinds had set traps for him. "I'm scared to death of mice, and it didn't matter where he was. I'd call him if one was trapped, and he'd come and get it," Coggin said. One day, she almost stepped on a huge rat that ran by front door. She called Hinds to come get it, and he thought she was exaggerating about the size. When he caught it and saw that she had not been exaggerating, Hinds laughed and said, "That wasn't no house mouse."
Hinds was one of 13 siblings. His younger brother Oliver said Wayne had always been his hero. "We thought the world of him," Oliver said. Hinds' knowledge of the floodway goes back long before he started work at the Drainage District. Oliver said he remembered back when Hinds farmed soybeans on 40 acres of land across the floodway. Oliver would help him with harvest and said they would put the soybeans in tow sacks, put them in a boat, and take the boat across the water. "When we got in the boat, he would say, 'Don't move your chewing gum.' He knew exactly where to go, and in all that time he never lost a sack," Oliver said.
Oliver lived in Nova Scotia for about six years in the 70s and 80s, and said his brother was the one person who came to visit him. Oliver knew he could always count on Hinds. When Oliver moved back from Nova Scotia, his car broke down outside of Nashville, Tenn., and Oliver called his brother Wayne to come get him. "He'd be the one to call if I needed something," Oliver said.
Sadly, Wayne Hinds sister, Vivian Hinds Presley, passed away the same day as his funeral, bringing the number of Hinds siblings down to four from the original 13. "God lent us these people, our siblings," Oliver said, "and I hope we can meet them again in eternity."