Trey Stafford entertains at Marked Tree Chamber banquet
Saturday, March 21, 2015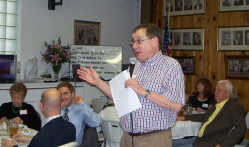 Radio personality and Marked Tree native Trey Stafford served as guest speaker for the Marked Tree Chamber of Commerce's annual banquet Tuesday night, entertaining a packed crowd with the story of how he got his start in radio. "My dream to be in radio started in this town at KPCA," Stafford said.
Stafford said he remembered listening to Marked Tree's radio station in the fourth grade, in particular a show called The Treehouse that aired from 4-5 p.m. Stafford asked his mom why they never had any school news on the radio, and she told him he should write some and take it to them. So he wrote up some school news that night and asked her to bring him to the radio station the next day.
When Stafford got to the station, a 25x25 foot building off Liberty Street, and told them he had written some school news, Bill Lawson told him, "Why don't you read it?"
"It felt good," Stafford said. "I decided right then: I don't know if I'll ever make money doing it, but that's what I wanted to do." He gave up sports and any other school activities to hang out at the radio station as much as possible.
In 1971, when Stafford was in the fifth grade, a tornado blew through Marked Tree. Stafford said nobody was hurt, but it made everyone nervous about future tornadoes. The Marked Tree Civil Defense Organization was formed. About 35 men and one woman were trained to be weather spotters with the idea that if there was bad weather they would be dispersed to watch for tornadoes and would contact the radio station by CB radio if one was spotted.
Stafford said the only problem was that KPCA was only on during the day. They found out they could use the Emergency Broadcast System if there was a tornado at night and made up a list of people who had a key to the radio station.
The first time the weather spotters were dispersed, no one with a key to the station could be contacted. But everyone knew Trey was at the radio station all the time, so his dad was called at one in the morning to see if Trey had a key, which he did.
"It was as if I hit a home run. I was dying for this opportunity," Stafford said. Stafford said he was left at the radio station "in the good hands of Maurice Henson. So there's a ten-year-old and a seventy-year old in charge of the radio."
Stafford had a ball playing country music while Henson listened to the CB. Finally a tornado was spotted heading toward Marked Tree from Payneway. When Henson finally got Stafford's attention, Stafford got on the radio and made the announcement in a panicked, high-pitched ten-year-old voice.
"My momma was in bed listening to her son, and she was so proud, but when that happened, she pulled the cover over her head," Stafford said. The editorial in the newspaper the next day was about the same thing that was on everyone's mind that night, "Who let that kid on the radio?!"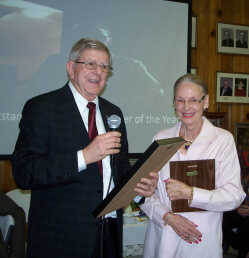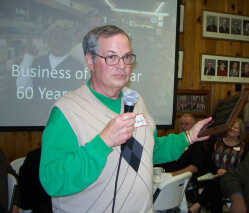 During the banquet, the Marked Tree Chamber also gave out several awards: Mary Smith won Chamber Member of the Year, Nyal Drug won Business of the Year, and Jeff Bookout won the Chamber Board Member Excellence of Service Award. But a special award was reserved for Wayne Hinds, General Manager of Drainage District 7. The chamber had planned to honor Hinds at the banquet, but he passed away before that could happen. The special award honoring Hinds was presented to his wife of 55 years, Glenda Hinds.