Tyronza receives rural community grant
Monday, March 23, 2015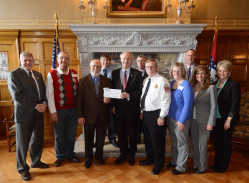 Governor Asa Hutchinson and ADRS Director Amy Fecher presented $85,356.73 to ten rural communities selected for Fiscal Year 2015 Cycle II funding through the Arkansas Rural Community Grant Program. The grant awards were distributed at a March 10 awards ceremony held in the Governor's Reception Room at the Arkansas State Capitol.
In attendance were representatives receiving an Arkansas Rural Fire Protection Grant award on behalf of Tyronza in Poinsett County. The City of Tyronza received $6,382.50 to outfit twenty firefighters with new NFPA regulation helmets with face shields and provide storage for firefighters equipment.
The Department of Rural Services works in partnership with the Arkansas Rural Development Commission to administer the Arkansas Rural Community Grant Programs in three cycles each year. Incorporated cities and towns and unincorporated communities in rural areas of less than 3,000 in population are eligible to apply for assistance through the mayor or county judge's office.
All Arkansans are invited to attend the 2015 Arkansas Rural Development Conference in Little Rock May on 19-21. Attendees will learn about additional programs and funding opportunities available to Arkansas' rural communities. Over 75 state legislators will join over 500 mayors, county judges, other state and federal officials, and community leaders to participate in this annual conference.
For more information about the Rural Development Conference or ADRS grant programs, please contact the Department of Rural Services at 1-888-RURALAR.