Wildcats drop conference doubleheader
Thursday, March 26, 2015
Trumann's offense could only muster eight hits and three runs in two games against Pocahontas today in 4A-3 conference action in Trumann. The Wildcats had three hits in a 6-0 loss in the opener.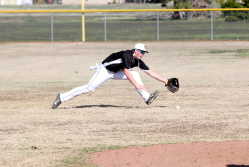 The first inning was quiet as each team had one runner reach base. Bradlee McAnally singled and stole second before being left stranded to make the score 0-0 after one inning. The Redskins scored four in the top of the second inning to make it 4-0. Lucas Moye drew a two-out walk in the bottom of the second inning but he was also left stranded there.
Trumann got on the board in the bottom of third a Connor Haag walked and went to second when McAnally was hit by a pitch. Haag stole third base before scoring on a single by Cain White to make the score 4-1 Pocahontas. The Redskins added two runs in the top of the fourth to take a 6-1 lead. Trumann got a run back in the bottom half of the inning as Moye was hit by a pitch with one out. Cade Gartman came on to pinch run for Moye and stole second to get in scoring position. Jackson Hendrix singled with two outs to plate Gartman making it 6-2 Pocahontas.
Woods retired the side in order in the top of the fifth for Trumann. The Wildcats cut the lead to 6-3 in the bottom half as Wilson singled to start things off. Dylan Qualls found the gap scoring Wilson with a double. Justin Liles reached on an error sending Qualls to third. Liles advanced to second putting two runners in scoring position with one out. The next two Wildcat batters struck out to end the inning.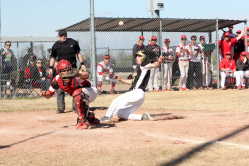 Pocahontas added three more runs off Woods to make it 9-3 before Kevnote Andrews came on in relief. Trumann went down in order in the bottom of sixth. The Redskins made it 10-3 with a run in the top of the seventh inning before Trumann went down in order again in the bottom of the seventh ending the game.
Wilson led Trumann's offense finishing with a hit, run scored and a stolen base. White, Hendrix and Qualls each had a hit and RBI as McAnally had a hit and stolen base. Gartman scored run and added a stolen base as Haag scored a run and stole a base.
Woods took the loss going five and two-thirds innings giving up nine runs on 10 hits while walking four and striking out three. Andrews pitched the final one and one-third innings allowing one run on one hit with two walks and two strikeouts.