Smith's big day leads Yellowjackets to win
Friday, April 3, 2015
Nolan Smith filled the stat book for Bay (5-0) as the Yellowjackets blanked Harrisburg 5-0 on the opening day of the day of the Xtra Innings Classic at Valley View. Nolan Smith picked up the win giving up two hits while striking out 12 batters and collected two hits, scored two runs, drove in two runs and stole three bases on the day.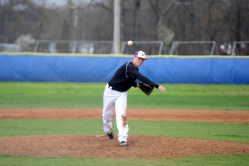 Nolan Smith reached on an error in the top of the first before advancing to second when Nathan Smith was hit by a pitch. Layne reached on a fielder's choice as all runners were safe to load the bases. Nolan Smith scored on a passed ball to give Bay a 1-0 lead. Collin McCrary singled with out in the bottom of the first for Harrisburg but was erased on a fielder's choice grounder from Arizona Sharp. Both teams were silent in the second inning as the score remained 1-0 'Jackets.
Bay tacked on two more runs in the top of the third as Nolan Smith drew a one out walk before stealing second base. Nathan Smith walked and the duo pulled off the double steal to put both runners in scoring position. Taylor Layne made the move pay off as he singled to score both runners making it 3-0 Bay. The Hornets went three up three down in their half of the third inning. Bay threatened to score again in the top of the fourth as they got two runners on but left them stranded. Harrisburg again went down in order keeping the score 3-0 Yellowjackets.
Cade Condra came in to relieve Seth Soden for Harrisburg and was greeted with a single from Nolan Smith. Nolan Smith stole second and moved to third on a single form Nathan Smith. Nathan Smith stole second but the runners were left on base as Condra settled down and retired the next three batters. Chris Wigginton walked to start the Hornets' half of the inning before stealing second to get in scoring position. Wigginton moved to third on a ground out and was left there as Smith retired the next two Hornet batters to make the score 3-0 after five innings of play.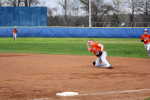 Dustin Utley walked to start the sixth inning for Bay. Jimmy Duvall laid down a nice bunt for a hit putting runners on first and second. Ryan Austin's sacrifice bunt moved the runners up a base. Nolan Smith came up big with two outs as his single scored Utley and Duball to make it 5-0 Bay. Brady Castle walked to open the bottom of the inning for Harrisburg and moved to second on a single from McCrary. Sharp was hit by a pitch to load the bases before Nolan Smith got Condra to pop up for an out and striking out Matt Walton to end the sixth inning. Each team went three up and three down in the seventh inning.
Layne finished the day with a hit and two RBIs for Bay as Nathan Smith had a hit, run scored and two stolen bases. Duvall had a hit and run scored, Utley scored a run and Austin stole a base for Bay.
Soden took the lass for Harrisburg as he pitched four innings giving up three runs on one hit while walking four, striking out seven and hitting one batter. Condra gave up two runs on four hits over the last three innings. He walked one and struck out two batters.
McCrary had both Harrisburg hits as Wigginton added a stolen base for the Hornets.