Wildcats fall in Xtra Innings Classic opener
Friday, April 3, 2015
Trumann took an early 1-0 lead over Palestine-Wheatley (PW) before the Patriots scored two runs in the fourth and one run in the fifth to take a 3-1 win over the Wildcats at Valley View this past Friday.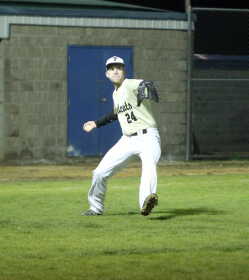 Each team got a runner on in their half of the first inning with Cain White reaching on an error but were left stranded on base. The second inning was much the same as Lucas Moye singled with one out and was left there as the Patriots also got a runner on but was left on.
Garrett Woods started the second inning with a double for the Wildcats before stealing third base. Connor Haag reached on error before he was doubled off on a liner to third by Bradlee McAnally. White singled to plate Woods making it 1-0 Trumann. PW loaded the bases with two outs before Kevonte Andrews got a strikeout to get out of the jam. Justin Liles singled to start the Wildcats' top of the fourth inning. Liles stole second to get in scoring position but Trumann was unable to bring him home. The Patriots finally broke through against Andrews as they scored two runs in the bottom of the fourth to take a 2-1 lead.
The Wildcats left another runner stranded as McAnally reached on an error with two lefts and was left standing on first when the top of he fifth inning ended. PW added to their lead as they plated another run in the bottom half of the inning to make it 3-1 Patriots. A familiar theme followed in the sixth inning as each team got a runner on base only to see them left there keeping the score 3-1 PW.
Trumann had one last chance as they Haag walked and McAnally singled to put runners on only to see White strike out to end the game.
Andrews took the loss for Trumann pitching all six innings giving up three runs on six hits. He walked two and struck out eight batters on the night.
Woods led the 'Cats offensively with a hit, run scored and a stolen base. White had a hit and RBI, Liles had a hit and a stolen base as Wilson, Moye and McAnally each had a hit.
The Wildcats lost another close one in the classic as they fell to Wynne (JV) 9-8.