Hornets shut out in Xtra Innings Classic
Friday, April 3, 2015
Harrisburg couldn't find an answer to Walnut Ridge's Layne Ditto as the Hornets mustered only one hit on their way to being shutout 3-0 on day two of the classic this past Saturday in Nettleton.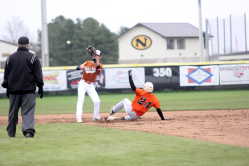 The Hornets first seven batters were retired in order before Matt Walton got Harrisburg's only hit of the game in the top of the third inning. Walnut Ridge scored two runs in the bottom of the first to take a 2-0 lead off Hornet starter Matt Walton. The Bobcats added a run in the top of the third to go up 3-0.
Jordan Hindman reached on an error for the Hornets' only baserunner over the fourth and fifth innings. Arizona Sharp came on to relieve Walton and kept Walnut Ridge's bats silence over the two innings as well.
Clay Wright reached on an error with two outs in the top of the sixth but was left stranded as the Bobcats also had a runner each base but left stranded. The Hornets went three up and three down in the top of the seventh inning ending the game.
Walton took the loss for Harrisburg as he pitched three innings giving up all three runs on four hits while walking one, striking out two and hitting three batters. Sharp pitched the final three innings allowing no runs on one hit. Sharp had one strikeout and hit one batter.
Walton had the Hornets only hit and added a stolen base.