Lady Warriors take win from rival Marked tree
Friday, April 3, 2015
EPC scored nine runs as they pounded out nine hits to down conference rival Marked Tree 9-3 in high school softball this past Monday in Marked Tree.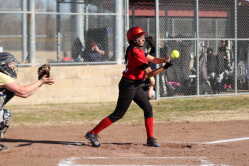 Alyson Phillips gave the Lady Warriors' their first baserunner with an infield single to start the game. Phillips stole second base before Lady Indian Madison Carroll retired the next three batters. Kelsey Pitts singled to open Marked Tree's half of the first inning. Pitts scored on a ground out by Carroll to make the score 1-0 Lady Indians. EPC scored three runs in the top of the second inning as Christian Hinson and Amelia Worsham had back to back singles to start the inning. Both runners moved up on a base ball and Hinson scored when Jaleigha Garrett singled to make it 1-1. Kurstin Bryan followed with a single to plate Worsham making it 2-1 Lady Warriors. Phillips' ground out scored Garrett to push the lead to 3-1 EPC. The Lady Indians threatened to score in the bottom of the inning as Brittany Pharis reached on an error, Kelsey Pitts drew a walk and Holly Smith was hit by a pitch. Sarah Tacker got Tanna Tacker to dribble a ball right in front of the plate that Worsham fielded and stepped on home to get out of the inning with the score still 3-1.
The Lady Warriors added another run in the top of the third inning as Madison Wiggins reached on an infield single and went to second when Hinson was hit by a pitch. Wiggins and Hinson executed a double steal to put runners on second and third with one out. Worsham drove in Wiggins with a single to make the score 4-1 EPC. The Lady Warriors added four more runs in the top of the fourth inning to make it 8-1. Bryan reached on an error before stealing second base and advancing to third on a passed ball. Sarah Tacker walked and stole second as Bryan scored on a throwing error on the play. Phillips and Kaylan Wilson were both hit by pitches to load the bases. Pitts came on to pitch for the Lady Indians as Lexi Driver reached on a fielder's choice that forced Sarah Tacker out at home. Hinson reached on an error that scored Phillips and Wilson to make it 7-1. Driver scored to make it 8-1 when Garrett reached on an error for EPC. Pharis walked and Smith was hit by a pitch for the second time putting two runners on for Marked Tree but they were left stranded to keep the score at 8-1 Lady Warriors.
Phillips bunted for a single in the top of the fifth and went to second on a throwing error. Driver scored Phillips with a two out single making it 9-1 EPC. The Lady Indians pushed two runs across in the bottom of the sixth to make the score 9-3. Pharis singled and came around to score when Hinson misplayed a ball off the bat of Cameron Willoughby at first and then her throw to third was off its mark. Willoughby scored when Tanna Tacker reached on an error. Both teams went quietly in the seventh inning.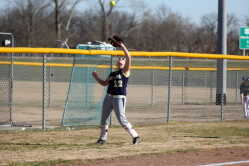 Sarah Tacker got the win for EPC going all seven innings giving up three runs on four hits. She walked five, struck out seven and hit two batters.
Phillips led the Lady Warriors offensively with two hits, tow runs scored and a stolen base. Worsham had two hits, a run scored and a RBI, Bryan had a hit, run scored, RBI and two stolen bases, Driver and Garrett each had a hit, run scored and RBI, Wiggins and Hinson had a hit, run scored and stolen base each, Wilson scored a run and Sarah Tacker had a stolen base.
Carroll took the loss for Marked Tree going three innings giving up seven runs on seven hits. Carroll walked one, struck out one and hit three batters. Pitts pitched the final four innings giving up two runs on two hits while striking out two and walking three batters.
Pitts and Pharis each had a hit and run scored a Carroll had a RBI and Willoughby scored a run.