Pierce returns to EPC as superintendent
Friday, April 3, 2015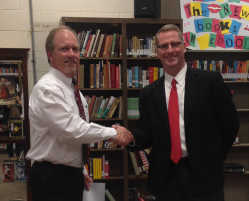 At a special called meeting on Monday, March 30, the East Poinsett County School Board approved to hire former superintendent Micky Pierce to fill the position again for the 2015-2016 school year.
Pierce retired from the district last year after working for the EPC School District for 34 years. During those years, he spent time as a math teacher, football coach, basketball coach, principal, and then superintendent.
The search for a new superintendent began after current superintendent, Gary Williams, resigned to accept another position in the Crossett School District in Arkansas.
Before going into executive session to make the decision, the board asked Pierce if he has a new vision for the district during his time in retirement.
"I've seen a lot of examples of different schools across the state, visiting with the different administrations. We do have a good thing going here. We have a lot of input from our local people, which is important," Pierce said. "It's important that we continue to find a way to build the number of people that we have in our community and school district. To me the school system is the heart and soul of the community."
After a quick executive session, the board came back with the decision to hire Pierce to begin July 1 on a 3-year contract with three percent above his pervious contracted salary.
"We are really excited. [Pierce] did a great job when he was here before, so it was a very easy decision to hire him again. He works with both communities very well," said Keith Tyler, member of the EPC School Board.
Pierce worked with Insurance Advantage and retired teachers during his short-lived retirement. Although he said he enjoyed the job, he missed working with the students of EPC.
"I am glad to have the opportunity to come back. It means something when people ask you to do something that you really enjoy doing," Pierce said.