CASA looking for more volunteers in Poinsett County
Saturday, April 4, 2015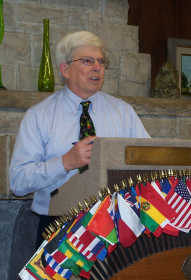 CASA (Court Appointed Special Advocates) has been growing and is looking to grow its number of advocates in Poinsett County. According to Michael Graham, Advocate Coordinator for CASA in the 2nd Judicial District, CASA volunteers advocate for children who have been removed from their homes.
When children are placed in the foster care system, CASA becomes involved. Children stay in foster homes while CASA advocates visit the children, observe supervised visits with the children's family, talk to school administrators, doctors, and therapists. Advocates then give testimony about the progress of the child and make recommendations to the court based on their findings.
"The great thing about it is that the judges are behind it," Graham said. "They're the ones who brought it here." CASA was formed in 1977 after Seattle Superior Court Judge David Soukup saw a need for child advocacy. At the time, there were only advocates for animal abuse cases. CASA came to Arkansas in 1995.
Graham started as an advocate himself before moving to his current position, and he found the work fascinating, especially because advocates have court orders which allow them to go places and investigate things people normally cannot. "The investigative work I get to do is interesting to me. It's like a mystery, and I get to solve it," Graham said.
CASA advocates handle things the Department of Human Services usually does not have time for, and a lot of times, as Recruiting Specialist Tonya Hottel explained, advocates "are really the stable situation in that child's life throughout the case." Children may be in and out of foster homes until they find a permanent home or are reunited with their family after significant progress has been made. But CASA advocates are a part of that child's life until the case is done.
Graham currently supervises eight advocates who handle Poinsett County cases, but CASA is looking to increase that by signing up at least ten more. Advocates must be at least 21 years old, have a love of children, undergo a background check and 30 hours of training. Advocates volunteer for 12-15 hours a month, write reports, and make court hearing appearances about three times a year.
For more information on becoming an advocate, contact Advocate Recruiter/Trainer Barbara McMorries at 870-935-1099. For more information on CASA, visit neacasa.org.