Amateur Boxing Club growing
Sunday, April 5, 2015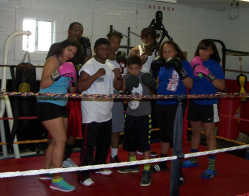 The Jonesboro Amateur Boxing Club is growing with around 60 members, both male and female. The not-for-profit club, which practices out of the Earl Bell Community Center in Jonesboro, celebrated a recent win for one of its boxers. C.J. Vornes won at a boxing competition held in Osceola recently.
Coach Otis Watson said the mission of the J.A.B. Club is to use the sport of amateur boxing as a tool to teach youth and adults the value of hard work, ethics, teamwork, sportsmanship, leadership, good health, and fitness. "We take it a step further and show them the relationship between setting a goal and achieving that goal through self-discipline and dedication," Watson said. "In doing this, we offer a facility with positive role models and a safe environment to help keep these young men and women off the streets."
One young woman who boxes with the group, Billy Williams, said the group was like family. "It's an intense workout, and it can be intimidating from the outside looking in. But they have my back, and I have theirs. We work out together, sweat together, and support each other," Williams said.
The club meets three days a week for cardio workouts on Mondays, boxing technique workouts on Wednesdays and Fridays, and ring sparring for advanced students on Fridays.
The club is free to participate in, and is currently working on obtaining 501(c) 3 nonprofit status to be eligible for grants. There is a fee to compete in USA Boxing sanctioned fights to cover insurance.
Watson said his goals for the J.A.B. Club are to continue building a winning boxing team to compete in regional, state, and out-of-state amateur boxing competitions, to continue to offer free workout classes to the community geared toward underprivileged youth and adults who just want a great workout, and to host more boxing events in Jonesboro in the near future.
Anyone interested in joining the club is encouraged to contact Program Developer Stephanie Glenn at 870-219-4963.