Vernell Edwards
Wednesday, April 8, 2015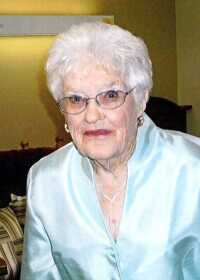 BEEBE - Vernell Edwards, 98, of Beebe, Ark. died Tuesday, April 7, 2015. She was a homemaker and a farmer. She was a member of Stoney Point United Methodist Church.
Vernell is survived by two sons, Jim (Liz) Edwards of Sherwood and Jerry (Patsy) Edwards of Beebe; two daughters, Phyllis Adkins of Sherwood and Glenda Drace of Marked Tree; six grandchildren; ten great-grandchildren; one great-great-grandchild; one sister, Mattie Ruth Fisher of Beebe; three brothers, Brewer Hefner of Searcy, Carthel Hefner of McCrory and Dale Hefner of Beebe; and a host of nieces and nephews.
She was preceded in death by her husband, J. W. Edwards; her parents; and five brothers.
Memorials may be made to Stoney Point Cemetery, 443 Stoney Point Church Rd., Beebe, AR 72012.
Family will receive friends beginning at 1p.m. Friday, April 10, at Smith - Westbrook Funeral Home, Beebe, with funeral to follow at 2 p.m. Burial will be in Stoney Point Cemetery. Arrangements by Smith - Westbrook Funeral Home. www.SmithFamilyCares.com