Prestidge honored for his service during WWII
Saturday, April 11, 2015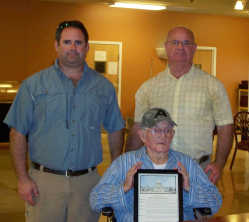 Friends and family surrounded Willard Theodore "Teddy" Prestidge at Three Rivers Healthcare and Rehabilitation Friday morning, April 3, as Rep. Dwight Tosh presented him with a citation recognizing his service during World War II, in which Prestidge served from 1942-1945.
Harold Blackwood, a Tyronza resident and friend of Prestidge, said he and Tonya Stallings of Oklahoma City got together to work on getting the citation for Prestidge.
Born in 1921, Prestidge graduated from Tyronza High School in 1939 and attended Mississippi State University from 1939-1941. Prior to joining the U.S. Army, Prestidge had only shot at squirrels, rabbits, and raccoons and had no idea what would be in store for him when he headed into battle. Prestidge said he only knew he was willing and ready to fight for the country he loved. Prestidge joined the Army at the age of 21 and served in the 254th Squadron, 27th Fighting Group. He traveled to North Africa by boat for two weeks and was seasick the entire time, an experience he had never even heard of before.
Ten days after arriving in North Africa, Prestidge's company marched ten miles north to join the Battle of Kasserine Pass where more than 1,000 American soldiers were killed and hundreds taken prisoner. Prestidge continued serving under the command of General George S. Patton, Jr., until victory was achieved in the North African campaign. Then Prestidge was among the U.S. and British troops who invaded Sicily.
Prestidge said he worked on airplanes after leaving Sicily, doing "anything they told me to. I was a country boy. I learned fast." After Sicily, he served in France, Switzerland, Africa again, and Germany. In Germany, he was approximately 50 miles south of the Battle of the Bulge, but his squadron did not make it to the battle in time to fight. Prestidge called the experiences he had in other countries "experiences that not your ordinary Arkansas country boy has."
Prestidge said his experiences during WWII changed his outlook on life and he hopes his children and their children's children never see the things he saw as a young man. For his service, Prestige earned the European, African, Middle Eastern Campaign Service Ribbon with one Silver Star, three Bronze Service Stars, a Distinguished Unit Badge, one Bronze Oak Leaf Cluster, and a Good Conduct Medal. He was later married and had four children, five grandchildren, and four great grandchildren.