Lady Wildcats take two wins at Highland
Friday, April 10, 2015
Trumann (9-2, 8-2 4A-3) took a 4A-3 conference doubleheader from Highland this past Tuesday winning the opener 9-3 before taking an 8-3 win in the late game.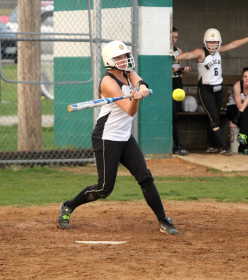 The Lady Wildcats fell behind early in the opener as the Lady Rebels scored three runs of Hannah Craig to take a 3-0 lead. Taelor Gartman singled to start Trumann's half of the inning before caught stealing. Maddi Payne walked before being forced at second on a grounder by Anna Waleszonia. Hannah Wood singled to scored Waleszonia to make it 3-1. Trumann made it 3-2 in the bottom of the second inning as Olivia Greenwell singled and came around to score on a two-out single by Gartman.
Trumann tied the game up at 3 in the bottom of the fourth as Kendall Pruitt doubled and later scored on an error. Highland went down in order in the top of the fifth as the Lady 'Cats added two more runs in the bottom of the fifth to go up 5-3. Woods was hit by a pitch and Craig singled. The runners advanced on a passed ball before Wood scored on another passed ball and courtesy runner Kiley Barnes scored on a single by Neely Blagg.
Gartman opened the bottom of sixth with a walk. Payne reached on an error and Wood drove in Gartman with a single to make it 6-3. Blagg's two-out triple scored pinch runner Misty Moye and Wood to make it 8-3 Trumann. Highland got two runners on in the top of the seventh but could not get any runs across.
Craig got the win in circle pitching all seven innings. She allowed three runs on six hits. She walked two and struck out three.
Blagg led the Lady Wildcats offensively with three hits and three RBIs. Wood finished with two hit, two runs scored and two RBIs, Gartman had two hits, a run scored and a RBI, Greenwell and Pruitt each had a hit and run scored, Craig had a hit and Waleszonia, Barnes and Moye each scored a run.
Waleszonia pitched a complete game to get the win in game one.