Wildcats sweep conference doubleheader
Friday, April 10, 2015
Trumann (4-10, 2-4 4A-3) rattled the bats and were swift on the base paths as they beat Highland 13-3 in the opening game this past Tuesday in Highland.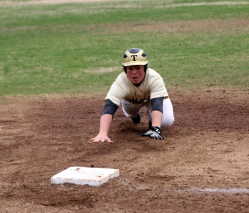 The Wildcats scored two runs in the top of the first to take an early 2-0 lead. Cade Gartman, Bradlee McAnally and Taylor Wilson all singled with Wilson's hit scoring Gartman. Cain White grounded out to plate McAnally. Trumann had a chance to add more runs but left two runners stranded on base. Highland plated two runs of their own to tie the game at 2-2 after one. The Wildcats got a one-out double from Garrett Woods before Gartman was hit by a pitch to put runners on first and second. The 'Cats couldn't get a run across as again they left two men on base.
Connor Haag drew a one-out walk and stole second to get in scoring position for the Wildcats. Haag went to third on a passed and later scored on a throwing error to make it 3-2 Trumann. Highland scored a run in the bottom of the third to tie the game at 3-3. Trumann looked to break the tie in the top of the fourth as Woods singled and stole second before Gartman singled to put runners at the corners. Wilson reached base after the catcher misplayed strike three to load the bases for Trumann. White's fielder's choice grounder forced Wilson at second to end the rally.
Haag doubled to start the fifth inning and came to around to score on an error to give the 'Cats a 4-3 lead after five innings of play. Trumann blew the game open in the top of the sixth as they scored six runs on five hits to take a 10-4 lead. Gartman was hit by a pitch for the second before McAnally singled. The duo completed a double steal before Wilson's infield single loaded the bases. White singled to score Gartman making it 5-3. Moye singled to score McAnally and Wilson to push Trumann's lead to 7-3. White, Moye and Alex Santos all scored on errors by Highland. The Rebels went down in order in the bottom half of the inning keeping the score 10-3 Wildcats.
Wilson singled to open the seventh inning and stole second to get in scoring position. White drew a walk and Haag was hit by a pitch to load the bases. Moye drove in Wilson and White with a single and Haag scored when Moye got caught in a rundown between first and second to make it 13-3 Trumann. Highland again went down in order ending the game.
Kevonte Andrews got the win for Trumann going all seven innings. He allowed three runs on five hits while walking four and striking out eight.
Moye led the Wildcats at the plate collecting two hits, scoring a run and driving in four runs. White had a hit, two runs and two RBIs, Wilson had two hits, two runs and a RBI, McAnally and Gartman each had two hits and two runs, Haag had a hit, three runs and four stolen bases, Woods had two hits and Santos had a run scored.
Wilson got the win in night cap going the distance giving up one run on five hits while walking two and striking out three. Haag had an inside the park homerun.