Indians drop conference game to Riverside
Friday, April 10, 2015
Marked Tree committed nine errors in the field as the Rebels took advantage of the miscues to beat the Indians 12-4 in 2A-3 baseball action this past Monday in Marked Tree.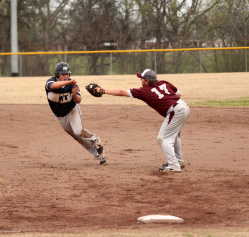 Riverside scored five runs it the top half of the first as Marked Tree committed four errors. Marked Tree answered with three runs in the bottom half of the inning. Bailey Gilbert walked and then went to third on a wild throw on the pick-off attempt by Riverside. Gilbert scored when Octavious Dean reached on an error making it 5-1. Blake Daniels doubled putting runners on second and third before Hunter Pitts plated them both with a single to make it 5-3 Riverside after one. The Rebels added a run in the top of the second inning as the Indians went down in order in the bottom half leaving the score 6-3 Riverside.
Dean walked and Daniels singled in the bottom of the third after Riverside went down in order in the the top half of the inning. Dean was picked off and the next two Marked Tree batters were retired keeping the score at 6-4 Rebels. Riverside added two more runs in the top of the fourth to increase their lead to 8-3. Nick Kinnie walked to open the bottom of the fourth and was sacrificed to second by Rickey Harmon. Terry Carter and Tevin McGee both struck out to leave Kinnie stranded on second.
The Rebels threatened in the top of the fifth as they loaded the bases but couldn't get a run across. Marked Tree added a run in the bottom half as Gilbert reached on an error before being thrown out at third trying to take an extra base on a single by Dean. Daniels singled and Pitts reached on an error to load the bases for the Indians. Gavin Lowry singled to score Dean making it 8-4 Rebels. Kinnie and Harmon struck out to leave the bases loaded for Marked Tree. Terry Carter doubled to open the bottom of the sixth for Marked Tree and went to third on a passed ball before being stranded there as the score stayed 8-4 Riverside.
The Rebels scored more more runs in the top of the seventh to make it 12-4. Daniels was hit by a pitch to start the Marked Tree half of the inning and was forced at second on a fielder's choice grounder by Pitts. Lowery grounded out and Kinnie struck out to end the game.
Daniels went all seven innings in taking the loss for Marked Tree. He gave us 12 runs on 12 hits while walking two and hitting a batter.
Daniels collected three hits and scored a run on the day for the Indians as Pitts had a hit and two RBIs, Dean had a hit and scored two runs, Lowry had a hit and a RBI, Carter had hit and Gilbert scored a run.