Camp Wildcat prepares students for 7th grade, partners with police
Monday, April 13, 2015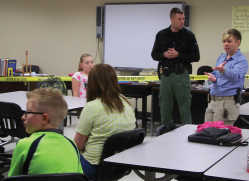 Making the transition from 6th grade to 7th can be tough. But Trumann students are getting help through a program called Camp Wildcat.
According to Ashley Farley-Crain, who teaches Camp Wildcat along with Chelsea Young, the program is held for 6th graders after school on Mondays and Tuesdays. It focuses on teaching social skills, responsibility, respect, and classroom procedures to help give students with the transition to 7th grade.
Camp Wildcat also introduces the students to project-based learning. Farley-Crain said compared with listening to a teacher lecture, project-based learning is more like having a real job because students have a project to work on and have something to show for it at the end. Project-based learning also requires a different skill set than students are used to, and respectful social skills are a huge part of that. "Normally they don't get to talk like this. This class gets them used to that freedom," she said.
Farley-Crain said Camp Wildcat gives students a head start to get them used to working in groups and teaches them the respect and responsibility they will need to undertake group work in the future. She said project-based learning gives the kids a lot of freedom since it involves a lot of interaction from the students, but they need time to get used to using that freedom respectfully.
This year's Camp Wildcat is partnering with the Trumann Police Department for a project involving a stolen painting scenario. Detective Corporals Missy Duran and Jeremy Winkles were in the classroom Tuesday to talk with the students about investigative police work. They will return to the class periodically to coordinate with the students in solving the scenario, which will involve activities like showing the students how to pull fingerprints from a crime scene and helping students learn what they need to solve a case.
"We'll get the students to be detectives on the case to teach them to stay calm and assess the situation and how to function in a high stress situation," Farley-Crain said.
"I'm excited they [the Trumann Police Department] agreed to help. Exposing the kids to police officers in a positive light is huge, and it will get them off on the right track," she said.