Civilian police academy participants graduate
Tuesday, April 21, 2015
Thirteen participants in the Trumann Civilian Police Academy graduated at the monthly city council meeting on Tuesday, April 14.
Trumann Police Department Chief Chad Henson began the program in January. The purpose of the class was to better communication skills between civilians and officers and to increase civilian understanding of law enforcement and crime prevention. Over the course of eight weeks, Henson began with police policies and ended with police use of force. He said his students were able to see everything that police officers do on a daily basis.
"This class is designed to communicate what we do, what we stand for, where we come from, and where we are headed," Henson said. "We touched base on everything, and I appreciate every one of them sticking with it."
Those who graduated were: Mayor Barbara Lewallen, Alderman Charles Goza, Alderman Bonnie Winkles, Alderman Jason Stewart, Becky Goza, Paul McAnally, David Johnson, Kristen Austin, Don Smith, Emily Casey, Kevin Hazelwood, John Malley, and Tammy Terry.
"Through this program, I have come to truly appreciate the police department and all they do everyday," Mrs. Goza said.
Mayor Barbara Lewallen also said that the program was interesting and informative to her.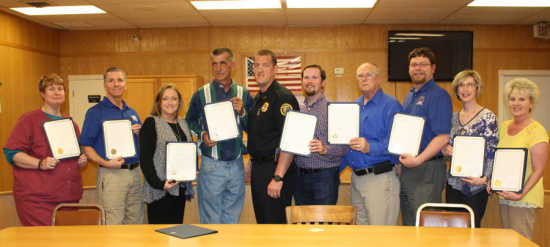 Henson said he hopes to have session two of the program in the fall of this year. The Civilian Police Academy is designed for working professionals who volunteer to attend classes for eight weeks. Volunteers must be able to commit 3-4 hours a week to the class, be 18 years old or above, and pass a background check.