Lady Wildcats take win over Lady Yellowjackets
Friday, April 24, 2015
Trumann (12-3) scored seven runs in the first inning as they went on to beat Bay (0-4) 13-3 last Thursday in high school softball action.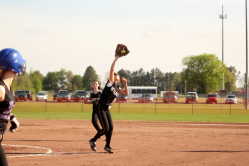 The Lady 'Cats sent 11 batters to the plate in the bottom of the first scoring seven runs to take a 7-0 lead. Taelor Gartman reached on an infield single before stealing second base. Maddi Payne walked and both scored on errors by Bay after Anna Waleszonia singled. Waleszonia scored on a ground out by Hannah Wood to make it 3-0. Hannah Craig singled and scored when Neely Blagg tripled to make the score 4-0. Blagg scored when Kiley Barnes reached on an error to make it 5-0. Barnes stole third base and later scored on a single by Kierra Corter pushing the score to 6-0. Corter scored on a passed ball to make it 7-0. Waleszonia retired all three batters on strikeouts in Bay's half of the second inning. The Lady 'Cats put six more runs on the board in the bottom of the second to go up 13-0. Waleszonia singled and went to second when Wood reached on an error. Waleszonia stole third and scored on an error to make it 8-0. Craig reached via an error that scored Wood making it 9-0 Trumann. Misty Moye singled to score Craig increasing the Trumann lead to 10-0. Moye scored on a single by Barnes making it 11-0. Barnes stole second, went to third on a wild pitch and scored on a passes ball to make it 12-0 Lady 'Cats. Corter walked and would score when Gartman reached on an error to make it 13-0 Trumann after two innings of play.
Payne came on to pitch for Trumann and hit the Bay batter with a pitch before the next batter drew a walk and both runners advanced on a passed ball. Baylee Bowers' ground out scored a run to make the score 13-1 Trumann. Trumann went down in order in the bottom of the third as the score stayed 13-1 Lady 'Cats. Both teams went three up and three down in the fourth inning keeping the score at 13-1 Trumann.
Cortni Johnson was hit by a pitch to start the top of the fifth inning for Bay. A Bay walk and and another reaching on a fielder's choice as Blagg fielded the ball at third and tagged the runner coming to third. The base runners moved up a base on a wild pitch before a run scored on another wild pitch to make it 13-2 Trumann. Craig came on to pitch for the Lady Wildcats and got a ground ball out from that allowed another run to score making it 13-3. Baylee Bowers grounded out for Bay to ending the game via the run rule.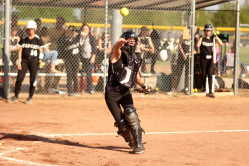 Waleszonia took the win for Trumann as she pitched two innings allowing no hits or runs while striking out five batters. Payne pitched two and one-third innings giving up three runs on no hits while hitting two batters. Craig pitched the final two-thirds of an inning giving up no hits and no runs.
Waleszonia finished with two hits, two runs scored and a stolen base as Craig had a hit and two runs scored, Barnes had a hit, two runs scored, a RBI and two stolen bases, Corter had a hit and two runs scored and a RBI, Moye had a hit, run scored, RBI and a stolen base, Blagg finished with a hit, run scored and RBI, Gartman added a hit, run scored and stolen base, Wood had a run scored and RBI as Payne scored a run.
Baylee Bowers took the loss for Bay as she pitched four innings giving up eight hits and 13 runs. She walked two and struck out five. Baylee Bowers also had a RBI for Bay.