EPC downs Wildcats 7-1
Friday, April 24, 2015
Clay Malone allowed one run on two hits as EPC (12-3) beat Trumann (4-13) 7-1 in high school baseball action this past Friday in Lepanto.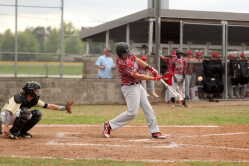 The Wildcats went down in order in the top of first as the Warriors got a two-out double from Malone only to leave him stranded at second. Trumann looked as if they were going to push the first run across as they got three base runners on in the inning. Lucas Moye was gunned down at the plate by Chanc Gray with a throw from just off the infield. The Wildcats left two runners on base to end the inning. The Warriors got another two-out double, this time from Austin Smith, but again left the runner their to keep the score 0-0 after two innings of play.
Both teams went down in order in the third inning. Cain White reached on an error in the top of the fourth and made his way to third only to be left there to keep the score 0-0. EPC got two runners on with one out as Peyton Phillips singled and Gray was hit by a pitch. Justin Liles coaxed ground ball outs from the next two batters to keep the game scoreless.
The Wildcats got a two-out single from Garrett Woods but couldn't do anything else as the score stayed 0-0 head to the bottom of the fifth inning. The Warriors finally got to Liles it the bottom of the fifth as Hayden Allen led off with a walk before Kyler Gordon singled. Both runners moved up a base on a passed ball and both scored when Aaron Scales singled and moved to second on the throw home. Connor Haag came in to pitch for the Wildcats. Scales stole third and scored on a ground out by Clay Malone to make the score 3-0. Trumann looked like they were gonna get on the board in the top of the sixth as Bradlee McAnally was hit by a pitch before being forced at second base on a fielder's choice by Taylor Wilson. Wilson stole second base but that was as far as he got as the next two batters both made outs to keep the score 3-0 EPC. The Warriors added four more runs in the bottom of the sixth to go up 6-0. Matt Ferguson walked to start things off and Smith was hit by a pitch to put two runners on base. McAnally came in to relieve Haag and got Quinn Young to ground to third forcing Ferguson out. Allen singled to load the bases before Gordon singled to score pinch runner #20 making it 4-0. Scales' infield single plated Young to make it 5-0. Gordon and Scales scored when Phillips singled with two outs to make the score 7-0 EPC.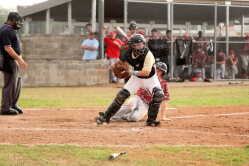 Trumann pushed a run across in the top of the inning as Dylan Qualls walked before stealing second base. Qualls moved to third on a ground out and scored on a wild pitch. Woods reached on an infield singled with two outs and went to second on a passed ball. Cade Gartman grounded out to short to end the game.
Malone got the win for EPC going all seven innings giving up one run on two hits while walking three, striking out six and hitting one batter.
Scales led the Warriors offensively with two hits, two runs scored, three RBIs and a stolen base. Phillips finished with two hits and two RBIs, Gordon had two hits, two runs scored and a RBI, Malone had a hit and RBI, Smith and Allen each had a hit and run scored as Young added a run scored.
Liles took the loss for Truamnn as he pitched four and one-third innings giving up three runs on five hits. Liles walked one, struck out four and hit a batter. Haag pitched an inning allowing one run on no hits as he walked two, struck out one and hit a batter. McAnally pitch two-thirds of an inning as he gave up three runs on four hits. He struck out one batter.
Woods had two hits for Trumann as Qualls scored the only run. Qualls, Wilson and White each had a stolen base.