Lady Hornets get win over Rivercrest
Friday, April 24, 2015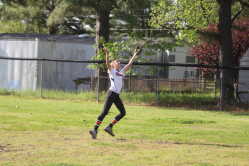 Harrisburg (9-8) scored four runs in the bottom of the sixth to break open a close game on their way to a 9-3 win over the Lady Colts this past Monday in a non-conference softball game.
Rivercrest got two runners on in the top of first but Emily Armstrong got a fielder's choice ground out to get out of the inning. The Lady Hornets scored two runs in their half of the inning. Keely Edwards singled, stole second and scored on a single by Keely Curtis. Curtis made her way to third and scored on a ground out from Somer Carter to make it 2-0 Harrisburg. Rivercrest scored a run in the top of the second to make the score 2-1 Harrisburg. The Lady Hornets responded with two runs in their half of the inning to make it 4-1. Camille Clem drew a one-out walk and came around to score when Keely Edwards reached on an error. Curtis followed with a double to plate Edwards.
Each team got a runner on base in the third but left them stranded keeping the score at 4-1. The Lady Colts got another runner on in the fourth but also left that runner stranded. Abby Edwards singled with one out and came around to score after two errors by Rivercrest to make it 5-1 Lady Hornets. Rivercrest added a run in the top of the fifth making the score 5-2 Harrisburg. The Lady Hornets looked to add to their run total as Sidney McMullin walked with one out. Jessica Webb doubled but ran up on McMullin at third that forced McMullin to break for home where she was thrown out. Webb was left stranded at third as the score stayed 5-2.
The Lady Colts made the score 5-3 with a run in the top of the sixth inning before Harrisburg plated four in the bottom half to go up 9-3. Clem walked, Abby Edwards singled and Curtis walked to load the bases. Clem scored when Somer Carter reached on an error and Abby Edwards scored when McMullin drew a bases loaded walk. Webb plated Curtis with an infield single and Allie Lawson drew a bases loaded walk to score Somer Carter. Melanie Jackson came on to pitch the seventh for Harrisburg and was greeted with a single before retiring the next three batters to end the game.
Armstrong got the win in the circle pitching five innings while giving up three runs on eight hits. She walked one batter. Melanie Jackson pitched the final inning giving up one hit and walking a batter.
Curtis led the offense with a two hits, two runs scored and two RBIs. Abby Edwards had two hits and two runs scored, Webb had two hits and a RBI, Keely Edwards had a hit and two runs scored, McMullin and Lawson each had a RBI and Clem scored two runs.