Yellowjackets sting Marked Tree in baseball action
Friday, May 1, 2015
Bay (10-5) got a 12 strikeout performance from Nolan Smith as the 'Jackets downed Marked Tree (9-10) 6-2 in non-conference baseball action last Thursday in Bay.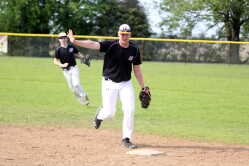 Bay took a 1-0 lead in the bottom of the first inning. Nolan Smith singled to lead off the game and moved to second on a sacrifice bunt from Nathan Smith. Taylor Layne walked before Jonathan Crain singled to score Nolan Smith. Jake Crocetto walked before the next two batters were retired to end the inning. Neither offense could muster much in the second inning as the score stayed tied at 1-0 Bay.
Marked Tree scored twice in the top of the third to go up 2-1. Bailey Gilbert doubled to start the inning and scored when Octavious Dean reached on an error. Dean went to second on the throw home trying to keep Gilbert from scoring. Dean was thrown out trying to steal third before Blake Daniels was hit by a pitch and then stole second base. Hunter Pitts doubled to score Daniels making it 2-1 Indians. Bay answered with two runs in the bottom of the inning to take the lead at 3-2. Nathan Smith singled before stealing base and Taylor Layne and Crain walked to load the bases. Kyle McAdams singled to score Nathan Smith and Layne was called out at home trying to score on the hit as well. Crain scored when Austin Webb reached on an error.
Bay added another run in the bottom of the fourth inning as Quentin Francomano reached on an error and scored when Nolan Smith doubled to stretch the Yellowjackets' lead to 4-2. As the 'Jackets kept the Indians off the scoreboard in the top of the fifth, Bay added two more runs in the bottom of the inning. Crain reached on an error and Crocetto bunted for a base hit to put two runners on base. Both runners scored on errors later in the inning to make the score 6-2 Bay.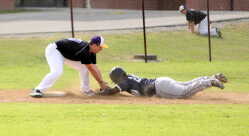 Nolan Smith struck out four of the last six batters he faced as the 'Jackets took the 6-2 win.
Nolan Smith got the win going all seven innings giving up two runs on three hits while walking two, striking out 12 and hitting two batters.
Crain led Bay at the plate with two hits, two runs scored and a RBI. Nolan Smith followed with two hits, a run scored and a RBI, Nathan Smith had a hit, run scored and a stolen base, Crocetto had a hit and run scored, McAdams had a hit and RBI, Ryan Austin had hit and Francomano scored a run.
Pitts took the loss for Marked Tree as he tossed six innings giving up six runs on eight hits. He walked five and struck out four.
Pitts had two hits, a RBI and a stolen base, Gilbert had a hit and run scored and Daniels scored two runs for the Indians.