EPC holds on to beat Hornets
Friday, May 1, 2015
EPC jumped out to a 2-0 lead before Harrisburg tied it up in the fourth inning. The game stayed deadlocked until the Warriors plated three runs in the top of the seventh before giving up two in the bottom of the inning as Clay Malone retired the last two batters stranding a Harrisburg runner on second to give EPC a 5-4 win spoiling Senior Day for eight Hornet seniors this past Monday.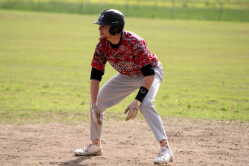 Aaron Scales singled with one out for EPC before stealing base and scoring on a single by Clay Malone to make it 1-0. Malone came around to score on an error to give the Warriors a 2-0 lead after half an inning. Cade Condra reached on an error for Harrisburg and promptly stole second base. Arizona Sharp was hit by a Malone pitch to put two runners on for the Hornets. Collin McCrary's liner was snagged by Brandon Smith who threw to first to complete a double pay and end the inning with the score 2-0 EPC.
The Warriors left a runner on base in the second inning as the Hornets left two on in their half of the inning. The third inning was much the same as the Warriors left another two on and the Hornets went down in order keeping the score 2-0 EPC.
The Warriors went down in order thanks to a double play after Quinn Young had drawn a one-out walk. McCrary opened the top of the fourth with an infield singled and went to second base on a sacrifice bunt by Seth Soden. Nathan Neal reached on an error by Aaron Scales that allowed McCrary to score to make it 2-1 EPC. Neal moved to second on an error and scored when Scales let a ground ball get under his glove to tie the game up at 2.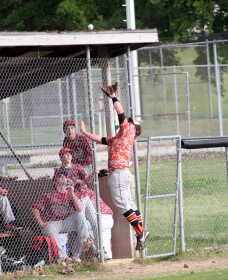 The fifth inning was quiet as the Hornets left a runner on base and both teams left two runners stranded in the sixth inning that kept the score at 2-2 headed to the last inning.
Young was hit by a pitch to start off the final inning. He was forced out at second on a fielder's choice grounder from Brandon Smith. Scales doubled to plate Brandon Smith and went to third on the throw to the plate. Scales scored when Malone reached on an error to make it 4-2 EPC. Peyton Phillips doubled to score Malone to make the score 5-2 Warriors. The Hornets didn't go quietly as Condra was hit by a pitch leading off the bottom of the inning. Sharp doubled with one out before both runners scored on a single from McCrary to make it 5-4. Malone got Soden and Zach Biggers to fly out ending the game.
Malone got the win for EPC as he pitched seven innings giving up four runs on six hits while walking one, striking out five and hitting one batter.
Scales and Malone both had two hits, two runs scored and a RBI on the day as Scales added a stolen base. Phillips had a hit and RBI, Austin Smith had a hit and stolen base as Brandon Smith scored a run for the Warriors.
Matt Walton took the loss for Harrisburg giving up five runs on six hits. He walked four batters, struck out three and hit a batter.
McCrary led the Hornets at the plate with three hits, a run scored and two RBIs. Jordan Hindman had two hits, Sharp had a hit and run scored, Condra scored a run and stole a base, Biggers had a hit and Neal added a run scored.