Helen Moye
Thursday, May 7, 2015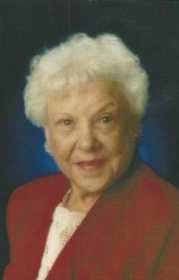 TRUMANN - Mrs. Helen C. Moye of Trumann died Sunday, May 3, 2015 at St. Elizabeth's Place in Jonesboro at the age of 94. Mrs. Moye was born Sunday, April 17, 1921 in Florence, Ala. and had lived most of her lifetime in Trumann. She was a homemaker and member of the Pleasant Valley Baptist Church. Mrs. Moye was preceded in death by her husband, Harold Edward Moye; one son, Jimmy Flynn Moye; one son-in-law, Wayne Hinds; one grand son-in-law, Kelley R. Sims; three sisters, Hazel White, Mary Lee Jones and Lois Tap; and three brothers, James Hollingshead, Richard Hollingshead and B.R. "Bud" Hollingshead.
She is survived by one daughter, Glenda Hinds of Trumann; four grandchildren, Tamera (Frank) Leatherwood, Misti Sims, Kim (Greg) Young, Jeff (Alexandria) Moye; 11 great-grandchildren, Raven Dawn (Shane) Ham, Brett (Laura) Taylor, Mackenzie Sims, Bailee Sims, Patrick Leatherwood, Trent Dix, Samantha Dix, Jordan Moye, Samuel Moye, Cole Moye, Madison Young, Marlee Young; and four great-great-grandchildren, Kennedy and Eli Ham, and Clark and Collin Taylor.
Funeral services will be Thursday (May 7) at 1:30 in the chapel of Thompson Funeral Home in Trumann, with Rev. Larry Loggins officiating. Burial will follow in Jonesboro Memorial Park Cemetery.
Pallbearers will be Scott Hollingshead, Gary Hollingshead, Larry Hollingshead, Eddie Hollingshead, Stan Cragg and Lamon Moye. Honorary pallbearers will be Mike Horton, Oliver Hinds, Bill Wagner, Tyrone Moye and Richard Woodruff.
An online register book can be signed at www.thompsonfuneralhome.net