Warriors win district opener over Marmaduke
Thursday, May 7, 2015
Hayden Allen tossed a one-hitter giving up only one run as EPC (17-5) took a 19-1 win over Marmaduke in the opening round of the 2A-3 district baseball tournament being held in Monette.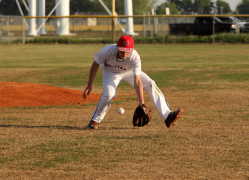 The Greyhounds got on the board first as they plated a run in the top of the first inning. EPC answered with two in bottom half of the inning. Kyler Gordon and Aaron Scales both reached on errors before making their way in to scoring position. Clay Malone lifted a sacrifice fly to centerfield that scored Gordon and allowed Scales to scored when the Marmaduke second baseman misplayed the relay throw giving the Warriors a 2-1 lead.
EPC sent 16 batters to the plate in the second inning as they scored 10 runs to go up 12-1. Matt Ferguson walked to start the inning and scored on an error after Austin Smith singled. Smith stole second before Quinn Young walked and Allen reached on an error to load the bases. Smith and Young scored on a single by Gordon to make it 5-1. Allen scored on a balk and Gordon scored when Scales reached on an error making it 7-1 EPC. Malone singled followed by a single from Peyton Phillips that plated Scales to make it 8-1. Chanc Gary singled to scored Malone and Phillips increasing the EPC lea to 10-1. Gray would score on an error and Ferguson scored when Gordon reached on a fielder's choice to make it 12-1 Warriors.
The Warriors tacked on seven more runs in the bottom of the third to go up 19-1. Phillips and Ferguson were both hit by pitches before Smith smashed a three-run homer to make it 15-1 EPC. Young was hit by a pitch and Allen and Gordon both singled before each scored on errors by the Greyhound defense to make it 18-1. Scales was hit by a pitch and also scored on a Marmaduke error to make it 19-1.
Allen retired the side in order in the top of the fourth before the game was called via the run rule.
Allen got the win pitching all four innings while giving up one run on one hit. He walked three and struck out seven batters.
Gordon had a big day for EPC at the plate collecting two hits with three runs scored, three RBIS and a stolen base. Smith had two hits, two runs scored, three RBIs and a stolen base, Gray had a hit, run scored, RBI and a stolen base, Malone and Phillips each had a hit, run scored and RBI, Allen had a hit and two runs scored, Scales and Ferguson each scored three runs Young scored two runs and Trey Howard had a run scored.
EPC downed Rector 7-5 Friday in one semi-final contest before falling to Riverside 11-5 Saturday to finish as district runner-ups. The Warriors will play in the 2A North Regionals in Tuckerman on Friday, May 8th against Pangburn. Game time is 12:30.