Wildcats sweep Harrisburg in season finale
Thursday, May 7, 2015
Trumann got two good pitching performances from Garrett Woods and Kevonte Andrews at the Wildcats swept a doubleheader from Harrisburg last Friday in Trumann. Trumann (10-15, 7-7 4A-3) will advance to the 4A East Regionals in Pocahontas as the Hornets (5-18, 1-13) season came to an end.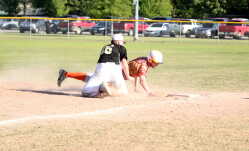 The Wildcats got on the board first as Bradlee McAnally drew a one-out walk and scored on Cain White's two-out double to make it 1-0. Harrisburg scored two runs in the top of third as Cade Condra singled and stole second base. Matt Walton and Arizona Sharp walked to load the bases. Condra scored on a fielder's choice grounder from Collin McCrary and Walton scored on a wild pick off throw from Justin Liles to make it 2-1 Hornets.
Trumann plated three runs in the bottom of the third inning to retake the lead at 4-2. McAnally reached first after the catcher missed the ball on strike three allowing him to reach first. Taylor Wilson walked and Lucas Moye reached on an error to load the bases. Dylan Qualls singled to score McAnally and Wilson making it 4-2 Wildcats.
Nathan Neal was hit by a pitch with one out in the top of the fourth before stealing second base and going to third on a throwing error. Walker Brown walked and moved to second putting both runners in scoring position. The runners were stranded as the next two batters were retired leaving the score 4-2 Trumann. The Wildcats extended their lead to 6-2 with two more runs in the bottom of the fourth inning. McAnally singled with out one and Wilson followed with a double putting runners on second and third. McAnally scored when White reached on an error and Wilson scored on a sacrifice fly from Qualls.
Harrisburg looked to score again in the top of the fifth as Sharp doubled with one out and McCrary singled to put runners on the corners. Seth Soden and Zach Biggers grounded out leaving the runners on second and third and score at 6-2 Wildcats. Trumann added a run in the bottom half of the fifth as Woods reached on an error, stole second base and scored on a double by Cade Gartman to make it 7-2 Wildcats.
The Hornets went down in order in the top of the sixth and Wildcats left Moye stranded after a one-out double. Sharp doubled for Harrisburg in the top of the seventh with two out but was left stranded as McCrary flew out to end the game.
Woods got the win for Trumann going all seven innings giving up two runs on five hits. He walked four, struck out five and hit two batters.
Qualls led Trumann with a hit and three RBIs followed by Gartman and White with a hit and RBI each. McAnally had a hit and three runs scored, Wilson had a hit and two runs scored, Moye had a hit and run scored and Woods had a run scored and a stolen base.
Sharp took the loss for Harrisburg as he pitched six innings giving up seven runs on six hits while walking four, striking out eight and hitting one batter.
Sharp added two hits at the plate followed by McCrary with a hit and RBI. Condra had a hit, run scored and stolen base, Neal had a hit and a stolen base and Walton scored a run.
In game two, Andrews got the win as he pitched six and two-thirds innings giving up two runs on four hits. He walked four and struck out eight. White pitched one-third of an inning striking out one batter.
Trumann will open regional play Friday, May 8th at 10 am against Lonoke.