Bay falls in regional semi-finals
Thursday, May 14, 2015
A day after holding on to beat Mammoth Spring 7-6, Bay's offense was kept in check as Viola (25-1) beat the Yellowjackets (13-8) 9-1 in one semi-final game of the 1A Region 2 Regional Tournament in Armorel.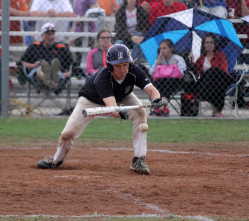 Bay was set down in order in the top of the first as Nolan Smith and Nathan Smith both struck out and Taylor Layne flew out to center field. Viloa scored a run in the bottom half of the inning to go up 1-0. Bay again went down in order as Jonathan Crain, Jake Crocetto and Jimmy Duvall all went down on strikeouts. The Longhorns took advantage of three Bay errors to plate three runs to go up 4-0 after the second inning.
The 'Jackets got on the board in the top of the third as Dustin Utley drew a one-out walk before advancing to second on a ground out by Quentin Francomano. Nolan Smith singled to score Utley making it 4-1 Viola. Nathan Smith struck to end the inning. Viola got two runners on but a double play got Bay out of the inning with the score still 4-1 Longhorns.
Crain singled with one out in the top of the fourth but was forced out at second as Crocetto reached on a fielder's choice. Duvall struck out to leaving Crocetto on base. The Longhorns threatened in the bottom of the inning getting two runners on but Nolan Smith induced a ground ball to get out of the inning. Both reams went three up and three down in the fifth as the score stayed 4-1 Viola.
Nolan Smith was hit by a pitch to start the sixth and moved to second on a sacrifice bunt from Nathan Smith only to be left there as Layne and Crain both went down on strikes. Viola scored five runs in the bottom of the sixth to extend their lead to 9-1.
Crocetto singled to start the seventh for Bay before Duvall struck out for the first out. Austin Smith hit a hard grounder that was looking like it would be a base hit before hitting Crocetto forcing him out and giving Webb first base on a fielder's choice. Ryan Austin struck out to end the game.
Nolan Smith took the loss for Bay as the pitched six innings giving up nine runs on eight hits. He walked three, struck out nine and hit three batters.
Crain, Crocetto and Nolan Smith each had a hit with Nolan Smith adding a RBI. Utley scored Bay's only run.
Bay topped Hillcrest 5-4 this past Monday and will be the number three seed out of the region headed to the 1A State Baseball Tournament to be held in Taylor May 14-16.