Elizabeth Swingle
Wednesday, May 20, 2015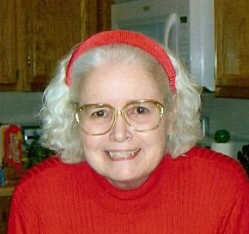 JONESBORO - Elizabeth Wade Swingle, 86, of Jonesboro passed from this life Saturday May 16, 2015 at NEA Baptist Medical Center. She was born September 25, 1928 in Winston-Salem, N. C. to the late Elisha Wade and Eula Blanche Orten. She lived most of her married life residing in Marked Tree where she was a long time member of the First United Methodist Church. She also lived for many years in Heber Springs where she was a member of Heber Springs United Methodist Church.
In addition to her parents Elizabeth was preceded in death by her husband of 58 years Dr. Charles Glenn Swingle; one daughter Cheryl Lynn Johnson; one granddaughter Kathryn Dodd Schisler; and two brothers Dodd Howard Orten and Fred Lynn Orten.
Elizabeth is survived by three daughters Deborah Kathryn Schisler and husband Mickey of Weiner, Elizabeth Lee DuVall of Jonesboro, and Carol Nanette Butt and husband Elbert of Bella Vista; one brother, Dr. Kenneth Lee Orten of Tyler, Tex.; twelve grandchildren; and 14 great grandchildren.
Pallbearers were her grandsons Adam Lyerly, Brandon Lyerly, Stuart Butt, Wade Hosman, Glenn DuVall, Matt Hosman, Joshua DuVall, Luke Hosman and Sam Johnson.
There was a graveside service May 19 at Cleburne County Memorial Gardens in Heber Springs. Emerson Funeral Home was in charge of the arrangements.
For lasting memorials please consider donations to American Cancer Society in lieu of flowers.