Perry to continue basketball career
Thursday, May 21, 2015
Lexi Perry of Marked Tree recently signed to continue her basketball career with the Mineral Area College Lady Cardinals in Park Hills, MO. Mineral Area is a two year comprehensive community college.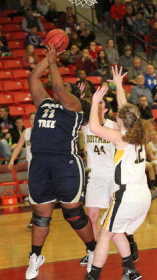 Perry had a fantastic senior year where she averaged 20 points, 16 rebounds, two blocks and almost two assists per game for the Lady Indians. Perry garnered many awards during her high school career including all-conference, all-state, all-NEA and all-regional tournament. Perry played in the annual Sun Senior Classic and will finish her high school career with the high school All-Star game in June.
The Lady Cardinals are coming off a 21-8 season as they won the Region 16 championship. The school competes in the NJCAA Division I level.
Family, friends and coaches were on hand to help Lexi celebrate.