Jazz in the Park aims to bring Marked Tree community together
Friday, May 22, 2015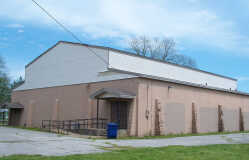 The George Washington Carver School Reunion has been meeting in Marked Tree every two years since 1991. For this year's 13th reunion, the George Washington Carver Alumni Association wanted to do something a little different to bring the whole community of Marked Tree together.
The Carver Reunion is sponsoring Jazz in the Park from 1:30-3:30 p.m. in Carver Gym Park on Saturday, May 23. The free event will involve a live D.J. playing jazz music. Everyone is invited to attend and encouraged to bring lawn chairs.
GWCAA President George Chester Cox Dial said many alumni of the Carver School, which was the school for African Americans in Marked Tree prior to integration, live out of state like her and are often so tied up with the reunion when they come back to visit that they don't always have time to see other people in the community. With Jazz in the Park, Dial said the community will get a chance to meet and greet with those attending the reunion.
"It's a chance to see people we grew up with," Dial said. "We wanted to bring the community to us."
For the full article, pick up the 5-21-15 edition of the Poinsett County Democrat Tribune or read the paper digitally with an online subscription..