Sharp inks with Williams Baptist College
Friday, May 29, 2015
Arizona Sharp fell in love with baseball the first time he played the game at seven years old. Sharp will get to continue the game he loves as he signed to play with Williams Baptist College (WBC) last Friday at a ceremony held at Front Page Cafe in Jonesboro.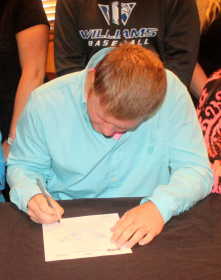 Sharp was all smiles as family, friends and former coaches were on hand to help him celebrate. The even was also broadcast live on "The Front Row with Budro" sports radio show. Sharp, whose dad Ray is the prodcuer of the show, has had a long history with the show.
"I remember my first game. I swung the bat so hard I spun around in a complete circle. They talked about in on the radio and the next day people starting calling in to help and I became a better hitter with their help," Sharp said. Sharp made the all-star team that year and it's carried him through a good high school career.
Sharp batted .322 this past season for Harrisburg driving in 16 runs. He compiled 2.13 earned run average while striking out 53 batters in 57 innings. He garnered all-conference honors this past season. Sharp also played on the football, basketball and bowling teams.
WBC head coach Frank Lee said Sharp but will be used on the mound but his bat will keep him in the lineup, possibly at first base. "We will build his arm strength and get a little more speed from him. We can see him playing first base, his bat will definitely help the club."
Sharp had other schools who showed insterst, but WBC was the first to offer. "They offered and I love the college. My hopes are to make the varsity team and be a positive influence in the dugout," Sharp said. "I'll work hard to whatever I can to help the team," Sharp added.