Arkansas Promise enrolling youth for research project
Saturday, May 30, 2015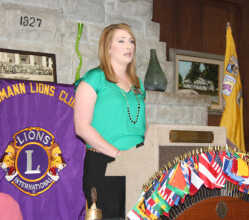 A research project is currently recruiting 2,000 youth aged 14-16 in 25 Arkansas counties, including Poinsett County, to study the effect of educational and employment support for young people who receive social security benefits.
Mary Keith, Regional Director for Arkansas Promise, told the Trumann Lions Club recently that part of the program's goal is to empower youth who are receiving social security benefits due to disabilities and prepare them for a better future after they stop receiving benefits at 18 through education and workforce experience. The program will work with them through providing educational support and workforce experience.
"We're working to educate, empower, and employ all these kids," Keith said. She said a big goal of the project is helping kids with disabilities realize they have options for entering the workforce.
For the full article, pick up the 5-28-15 edition of the Poinsett County Democrat Tribune.