Fallen Heroes Memorial completed
Thursday, June 4, 2015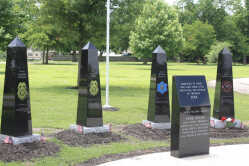 It took over a year of fundraising and work, but the Trumann Fallen Heroes Memorial Park opened Saturday with a ribbon cutting and a huge crowd despite spurts of rain.
Four monuments honoring four men who gave their lives in service to the community--State Trooper William Rose, Jr., Trumann Police Chief Larry Blagg, Trumann Police Officer Jonathan Schmidt, and Trumann Fire Chief Rick Winkles--were unveiled during an opening ceremony.
"We've seen a lot of comrades fall. Ten years later, people tend to forget. I didn't want that to happen with these guys," said David Woods, who came up with the idea for the park following the death Chief Winkles.
The Fallen Heroes Memorial Park is located next to the walking track at the Trumann Sports Complex.
For the full article, pick up the 6-4-15 edition of the Poinsett County Democrat Tribune or read the paper digitally with an online subscription.
See more pictures from the opening ceremony at: http://www.democrattribune.com/gallery/23927