Police dog visits Arlington Cove
Sunday, June 7, 2015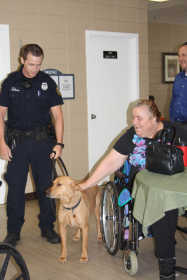 Several residents of a local nursing home were delighted to have a visit from a friendly face on Tuesday, June 2. The Trumann Police Department brought Blue, a police dog, to Arlington Cove Healthcare LLC in Trumann to visit with residents.
Lt. Lenny Becker, Lt. Gary Henry and Lt. Logan Thomas showed residents how Blue is able to find drugs hidden in various locations. Misty Cox, activities and social director at Arlington Cove, said the event was one of many that the nursing and rehabilitation center will be doing for outreach to the community.
During the first two weeks of August, Arlington Cove will be one of the sponsors for the District Special Olympics. Cox said the District Special Olympics is usually held in Paragould; however, it will be held in Trumann this year.
"We are owned by a new company, and we are working hard to do a lot of community work," Cox said.
Arlington Cove has also had a visit from the Trumann Fire Department. Cox said several of the residents enjoyed a visit from Ziggy, the dalmatian fire dog.
"Our main focus with all of these events is to bring the community together and build stronger relationships," Cox said. "We want a positive outlook in our community, and we want to do things that help promote that."
Like Cox, the officers also believe community outreach is important.
"We are here as public servants to build a bond with the community. It is important to have community trust. It takes all of us working together to build that trust," said Lt. Gary Henry with the Trumann Police Department.