Poinsett County Eagles fall in season debut
Thursday, June 11, 2015
Poinsett County's American Legion baseball team, consisting of players from Trumann, Harrisburg, Lepanto and Marked Tree, took to the field for their first game last Thursday in Trumann. State Representative Dave Wallace of District 54 threw out the first pitch of the season. The visiting Paragould played spoiler in the opener winning 14-4 but the Eagles came back to take game two 4-2.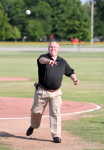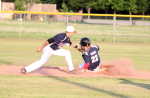 Paragould jumped out to a 2-0 lead in the top of the first inning off starting pitcher Austin Jackson. Garrett Woods was hit by a pitch and went to second on a wild pitch only to be left stranded there. The visitors tacked on another run in the top of the second to make it 3-0. Trumann looked to get on the board in the bottom half as Jarred Carter and Jackson had back to back one out singles. Jordan Hindman was hit by a pitch to load the bases with two outs before Cade Gartman struck out looking to end the inning.
Pick up a copy of the June 11 Poinsett County Democrat Tribune for full story.